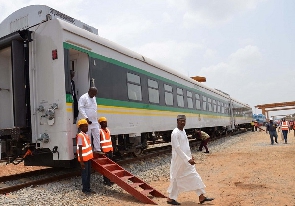 The Kaduna State government in northern Nigeria confirmed reports of an attack on a train shuttling between the state and the capital Abuja, late Monday, March 28, 2022,.
Local media outlets reported that gunmen had abducted an unknown number of passengers from the train which at the time was within the Kaduna state jurisdiction.
The BBC Africa LIVE page reports that the gang mined the track between the capital Abuja and Kaduna city and forced the evening train to a halt.
Many of the nearly 1000 passengers on board took shelter as shots were fired. One man is reported to have been killed after the gunmen boarded the train, the report added.
Samuel Aruwan, spokesman for the Kaduna State government said in a statement that security forces had intervened – fought off the gunmen and taken those injured to hospital.
Travel by train has been gaining increased popularity in Africa's most populous nation given the rising insecurity along the critical road artery connecting the center to the north.
Attacks on the road had led to kidnappings for ransom and instances where hostages were killed.
The latest attack, however is the second to hit the rail network in a period of six months.
The Muhammadu Buhari government has been priding itself in massive improvement in the area of expanding the country's rail network but insecurity remains a major challenge in connecting parts of the country.