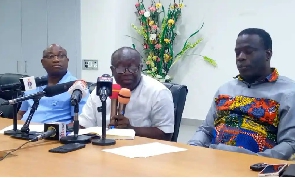 Organised Labour and Government have agreed on a 30 percent increment of the Single Spine Base Pay for the 2023 Financial Year.
The Controller and Accountant General has hereby been directed to effect this starting from the January 2023 payroll.
Just two days ago, a meeting between the two parties ended inconclusively for the seventh time.
Organized Labour was demanding a 60% increment in base pay on the single spine salary structure but government was holding out that the demand was not feasible.
Organized Labour explained that percentage demanded is largely due to harsh economic conditions.
In an interview with Citi News (January 10) on the sidelines of a media briefing, the Deputy Minister for Employment and Labour Relations, Bright Wereko-Brobby, explained that, "since the beginning of the year, this has been our first meeting, and so we recapped what we have been doing.
"We have both decided to come tomorrow Wednesday, January 11, 2023, to conclude our negotiations. We are working very fast. Tomorrow God willing, we will share any information that will come up."
See below the press release after the agreement was reached
Source: GNA