Ghastly scenes as one dies, several others injured in road crash at Kwame Nkrumah Circle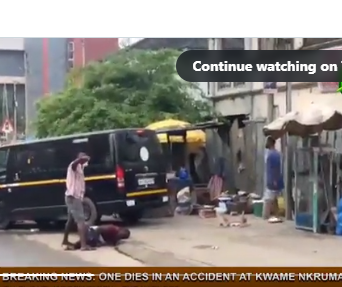 At least one person is reported to have died and several others were injured in a road crash at the Kwame Nkrumah Circle in Accra on Thursday, September 14, 2023.
According to a news report by UTV, the crash happened when the brakes of a black commercial vehicle with the registration number GR-631319, failed.
The black car, the report indicated, crashed into two other cars, a Taxi and a 'Trotro', leading to the death and injuries.
The report also showed the scene of the crash where some of the victims could be seen laying on the floor.
It indicated that three people were seriously injured and one of them, a woman, died as a result of the injuries she sustained.
The driver of the taxi, who spoke to UTV, said that the black car hit some of the pedestrians standing at the bus stop close to the GCB Bank at Circle.
He added that the black car had three passengers and a driver and appeared to have been travelling from a long distance.
Watch the report below (Viewer discretion is encouraged):
Source: www.ghanaweb.com