Ghanaian woman deported from USA over no papers after friend reported her to authorities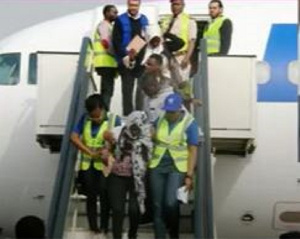 A Ghanaian lady named Frimpongmaa was deported to Ghana from the United States of America after her friend reported her to authorities.
According to Freda Afriyie, the narrator of the deportee's ordeal on social media, Frimpongmaa was working in the States with other Ghanaian documents, so her salary went into the person's account.
She said Frimpongmaa had made over US$70,000 but her money was locked up with the Ghanaian whose papers she was using to work.
The narrator said Frimpongmaa went to her 'debtor's' house to ask for her hard-earned money but the woman said she was sick and needed to be given 2 months for her to cash out Frimpongmaa's money.
"My money is with the sister and I told her to let's go to the bank to withdraw the money for me. She said she doesn't have time. She was sick, so I should give her 2 months and that the doctor said she should not go out. So the woman said, I'll use Uber to pick you up to the bank. This led to an argument," Frimpongmaa told Freda Afriyie.
The debtor called her husband and police that she was under attack after she had confrontations with Frimpongmaa.
Following her arrest, she was investigated and processed for court as she had no documents to prove her stay in the USA.
She was also deported and is currently in Ghana, working as a dish washer in a chop bar.
Watch the video below;
Source: www.ghanaweb.com