Ghana among 6 countries to struggle with debt-servicing burdens – EIU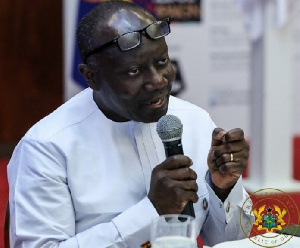 The Economist Intelligence Unit (EIU) has said that Ghana, just like some six other African countries will have issues with debt servicing in 2023.
According to its Updated 2023 Africa Outlook Report, these debt burdens may have certain substantial effects on its revenue.
The six other countries are Tunisia, Egypt, Congo-Brazzaville, Zambia, Zimbabwe and Mozambique.
The report also noted that the African governments have ramped up their borrowing—domestically and internationally—and public sector debt ratios (relative to GDP) have pushed back towards the highs last seen in the early 2000s just before the enormous debt restructuring of 2005, implemented under the umbrella of heavily indebted poor countries (HIPC) initiative.
"Ghana, Tunisia, Egypt, Congo-Brazzaville, Zambia, Zimbabwe and Mozambique have enormous amounts of debt (relative to GDP) and their governments will grapple with debt-servicing burdens that eat up a substantial share of their revenue in 2023," the report said.
It explained that "The need to service and roll over large amounts of debt at a time when domestic and international borrowing costs are on the rise will weigh heavily on some countries in 2023 and things could get even more painful in 2024 when more capital repayments fall due."
The EIU also mentioned that some major economies like Algeria, Angola, Ethiopia, Gabon, Kenya, Nigeria, and South Africa have seemingly manageable levels of public debt but may suffer from high and rising debt-servicing costs—especially Nigeria where the debt-to-GDP ratio is low but debt is hugely expensive to service.
"Consequently, pressure will mount to implement economic reforms—including changes to subsidy regimes and tax structures—and cut back on public-sector spending, although large-scale changes will most likely be put off until upcoming elections settle and the political path becomes clearer," it concluded.
Source: www.ghanaweb.com