Gambo – Drip Remix ft. Jim Jones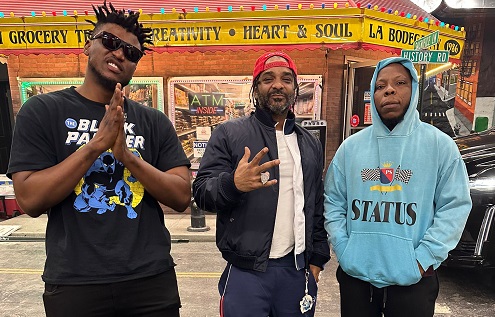 Caption: L-R, Gambo, Jim Jones and Edem in a pose after a studio session in the US
Highly-talented Ghanaian trap rapper, Bashir Annan, popularly known as Gambo, is expected to be introduced to the United States music market in a grand style with his 'Drip' song remix featuring legendary American rapper, Joseph Guillermo Jones II, known in showbiz as Jim Jones, as well as Ghanaian musician Ayigbe Edem.
Gambo, Jim Jones and Edem have already hit the studio in New York, USA and are done with recording the Drip remix. They are now working on shooting the video for the remix. The 'Drip' remix will be released later in 2023, and is expected to take the US and Ghanaian music industries by storm.
The 'Drip' remix will be a big project for Gambo, the hip hop and Afrobeats industry.
It will basically be introducing Gambo – the 'Settle' singer – to the US music market, and will further give him the opportunity to also showcase and tell the story of Ghana with its rich culture and let the world know that the same way Dubai and America are being promoted on tourism, it's time to do same in Africa, that is to promote positivity on the continent or showcase the beautiful and positive side of Africa and Ghana as he has done consistently for about four years of his so far successful music career.
Gambo has therefore assured his millions of fans that they should expect "a magnificent video" for 'Drip' remix.
It would be recalled that in 2021, Gambo, a Vodafone Ghana Music Awards winner, released his Drip single, along with its flamboyant music video which was touted by fans to be the most flashiest and expensive music video of that year. 'Drip' is a single taken off Gambo's New Era Extended Play (EP).
Gambo, who has built for himself, a reputation of being Ghana's foremost fanciest rapper, has over the years, been very keen on raising the bar, and has been very consistent when it comes to producing world-class quality music video. His Drip music video was shot on the 7th floor of Kempinski Hotel in Accra, by award-winning Ghanaian music video director, Yaw Skyface with a star-studdy cameo appearances from Ghanaian actress and model, Moesha Buduong, actress and video vixen, Shugatiti, as well as Ghana's finest DJ, DJ Mensah.
Jim Jones, after watching the Drip video in New York, was actually shocked to note that a music video of such high quality was actually shot in Ghana, asking "is that Ghana?"
He is therefore very excited to be collaborating with Gambo on the Drip remix.
Jim Jones, has since the release of his debut solo album, 'On My Way to Church', in 2004, been churning out several great songs.
An original member of the hip hop collective the Diplomats, (also known as Dipset), Jim Jones is one of the well-known figures in the American music industry. His biggest single, 'We Fly High', reached number five on the US Billboard Hot 100 chart in 2006. 'We Fly High', is a single taken off his third studio album, 'Hustler's P.O.M.E. (Product of My Environment)' which was released the same year.
His major studio album titled 'Pray IV Reign' was released in March 2009 by Columbia Records, with the album containing the hit song 'Pop Champagne' (with Ron Brownz featuring Juelz Santana. Jim Jones went on to release his fifth studio album, 'Capo' in April 2011, with the lead single of that album being 'Perfect Day' featuring Chink Santana. He took a musical break after the 2011 album release, but returned in May 2019 with his sixth album titled 'El Capo'.
Ayigbe Edem is one of the leading rappers in Ghana. He has been in the music industry for more than a decade, and has won several awards for his craft over the years.
With the achievements and exceptional musical talents of Jim Jones and Edem, it can be said that their blend with Gambo on the Drip remix will yield a magnificent result.