From next in line to 'failed' NPP presidential candidate: A sad story of Alan Kyerematen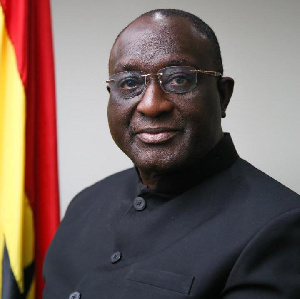 "I'll do everything in my power not to let you down, with the decision you have made here. I hope my colleagues can forgive me, but, on this occasion, I single out one particular man; one man who gave me such a big run for my money.
"All I can say to him is what my predecessor flagbearer said to me many years ago, and I have never forgotten it. After our contest in 1998, he came to my house to tell me that he had to be President first before I become president. Alan will follow me.
"The gesture that he has made here is a gesture that comes with the resilience of the very best of the traditions of our great movement and party. And in all that, I owe you a special word of gratitude for making all our lives that much easier. Alan, thank you once again. Thank you very much indeed."
These were the words of President Nana Addo Dankwa Akufo-Addo when Alan Kyerematen dropped out of the (New Patriotic Party) NPP primaries in 2007.
The intense 2007 NPP primaries held at Legon was heading for a run-off between Alan and Akufo-Addo, the top two candidates at the congress after none of them failed to get the required 50+1 votes but the latter (Alan) withdrew from the race following concern the runoff might split the party.
Alan regarded his withdrawal as the ultimate sacrifice for the NPP which had earned him the right to lead the NPP after Akufo-Addo.
He warmly accepted Akufo-Addo's appointment in his first term, as the minister for trade and industry, not knowing that it was the reward for his "sacrifice".
He even accepted to continue as trade and industry minister during the second term of Akufo-Addo which many political experts have stated was his undoing.
Now it is time for Akufo-Addo to leave but Alan, who made the "ultimate sacrifice" for the NPP in 2007, led efforts to build the party's head office, see his dream of leading the party in a presidential election dashing.
He, withdrew from the flagbearership race of the NPP for the 2024 election, which could be his last, citing intimidation of his supporters by the 'establishment', who he accused of skewing the primaries in favour of one candidate.
In a statement issued on Tuesday, September 5, 2023, he stated that he could no longer recognise the NPP, which he helped build and sacrificed for in 2007.
"After having carefully analysed the results of the said elections, it is absolutely clear to me from the events leading to, during and after the elections, that the Special Delegates Conference was strategically and tactically skewed in favour of one particular aspirant.
"The level of intimidation of varying intensity, directly and indirectly, unleashed on a significant number of Delegates at various Voting Centres across the sixteen regions, is unprecedented in the history of our Party," he said.
The next in line is now out of the race. Now would Alan be asking himself "Had I known is always at last" or should I have "made hay while the sun shines?".
About Alan Kyerematen:
Alan John Kwadwo Kyerematen (popularly called Alan Cash) is a Ghanaian politician, a corporate executive, a diplomat, and an international public servant. Kyerematen made an attempt at the leadership of the New Patriotic Party in 2007, capturing 32.3% of votes cast.
He was first runner-up to Nana Akufo-Addo who gained 47.96% of votes cast. Mr. Kyerematen made a second attempt at the Party's leadership in 2010 and he placed second to Nana Akufo-Addo who won the Primaries.
Kyerematen was the Ghanaian Ambassador to the U.S.A and later Minister of Trade, Industry, Private Sector Development, and the Presidential Special Initiatives, under President Kufuor-led NPP government. Mr. Kyerematen currently serves as a trade advisor at the UN Economic Commission for Africa (ECA) in Addis Ababa, Ethiopia.
He heads the African Trade Policy Centre (ATPC). Ghana, on 17 December 2012, nominated Alan John Kwadwo Kyerematen for the post of WTO Director-General to succeed the current Director-General, Pascal Lamy, whose term of office expires on 31 August 2013. His candidature has received the backing of the African Union (AU).
Alan John Kwadwo Kyerematen was born on October 3, 1955, to the late Dr. Alexander Atta Yaw Kyerematen from Patasse, Kumasi and Victoria Kyerematen (née Welsing) from Elmina and Ejisu. He was named after an Anglican Archbishop from England, The Most Reverend Alan John Knight CMG DD who was the Headmaster of Adisadel College and a mentor to his father, A.A.Y.
Kyerematen when the elder Kyerematen was a student at the school in the 1930s. As a result of his mixed ancestry, he speaks Twi fluently. In addition, he is fluent in Ga, Fante, and some French.
He is married to Patricia Christabel Kyerematen (née Nyinah) who is the daughter of Justice Kingsley Nyinah, Ghana's Electoral Commissioner during the 1979 presidential election.
They have two children namely Alexander and Victor. Alan John Kyerematen attended the all-boys Anglican boarding school, Adisadel College in Cape Coast for his secondary education. He entered Adisadel College at the record age of nine years, and thereafter attended the prestigious Achimota School for his sixth form education.
He proceeded to the University of Ghana, Legon for a Bachelor's degree in Economics. Kyerematen also holds a Law degree, LLB from the Ghana Law School at the same university where he qualified as a Barrister-at-Law. He was called to the bar in Ghana and is a practicing attorney-at-law in Ghana.
In addition, he is a Hubert Humphrey Fellow of the School of Management at the University of Minnesota, U.S.A, having completed one-year management studies under the Fulbright Fellowship program at that institution.
Party Activist
Mr. Alan Kyerematen has been a leading young stalwart and key strategist of the NPP since its inception in 1992. He is a Founding Member of the New Patriotic Party (NPP) and has also served on the highest decision-making bodies of the NPP that shaped the Party's strategic direction both in opposition and in Government, including:
NPP National Executive Committee, serving as a Member from 1992 to date NPP Economic Management Team NPP Finance Committee. He is also a Founding Member of the Young Executive Forum (YEF), a powerful advocacy and lobby group within the Party that played a major role in galvanizing the professional and business community to support the growth and development of the party, as well as mobilize a new generation of party faithful and young leaders. As Chairman of YEF from 1992 to 2001, he symbolized the essence and spirit of the new generation of party leaders.
Hon. Kyerematen has been one of the privileged few to have held membership of the National Executive Committee for over a decade, under successive Chairmanship of Mr. B.J. DaRocha, The Right Hon. Peter Ala Adjetey, H.E. Odoi Sykes and Mr. Harouna Esseku. As a result of his contribution to strategy development within the Party, he was appointed as a Member of the NPP/CPP Great Alliance Negotiating Team.
Mr. Kyerematen made an attempt at the leadership of the New Patriotic Party in 2007, capturing 32.3% of votes cast. He was the first runner-up to Nana Ado Dankwa Akufo Ado who gained 47.96% of votes cast. He made a second attempt in 2010 where he placed second to Nana Akuffo Addo.
Source: www.ghanaweb.com