From blogging to real estate: Sonnie Badu reveals Ronnieiseverywhere's path to wealth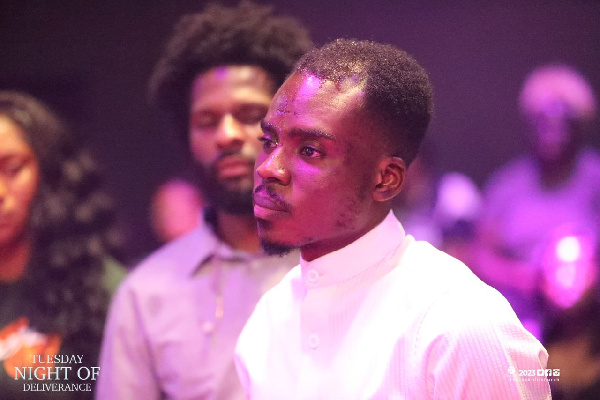 In a remarkable and unforgettable encounter, renowned US-based Ghanaian pastor, Dr. Sonnie Badu, has blessed dedicated and famous Ghanaian blogger Ronnieiseverywhere, known in private life as Aaron Safohene Afful, unveiling a divine prophecy that goes beyond the realm of cyberspace.
During a vibrant church service at the Rockhill Church in Atlanta, USA, Dr. Badu prophetically declared that the blogger is destined for a life of wealth and prosperity, not solely from his successful blogging endeavours but from the lucrative realm of real estate.
As Dr. Badu laid his hands upon him, the atmosphere filled with divine energy, and the blogger was overcome with calmness.
In a heartfelt prophetic utterance, the pastor revealed that the blogger's passion for blogging was only the beginning of his journey toward affluence. Real estate investments were destined to pave the way for an abundance of riches beyond his wildest dreams.
"I release wealth, I soak and divine your feet and release you into the globe, may you represent Africa and may you represent your country, you will travel all around Europe, negotiating in high-profile meetings. What your father never had, what your grandfather never had you shall receive."
But Dr. Badu's prophetic message did not stop there. Directed by the Holy Spirit, he prayed for the blogger's long life and protection from any wicked forces. This divine shield was a safeguard against potential adversaries and obstacles that might arise on the path to success.
"You shall have a long and prosperous life," the pastor declared, amidst an outpouring of "Amens" from the congregation. "Any attempts from your enemies to bring harm or hinder your progress shall be in vain. The divine forces are with you, shielding you from harm's way."
Furthermore, the pastor prophesied that before the year's end, the blogger would encounter three extraordinary individuals – a white woman and two white males. These encounters, he said, would be significant, as they would recognize the blogger as their own, welcoming him into their lives as a son.
The significance of this prophecy left the blogger in a state of both wonder and anticipation. With newfound hope and faith, he sets forth on a path that transcends the confines of his blogging world, eagerly awaiting the fulfillment of the divine promises spoken over his life.
The encounter between Dr. Sonnie Badu and Ronnieiseverywhere has set in motion a remarkable journey towards a future filled with prosperity and divine blessings. In the days and months ahead, the fulfillment of these prophecies remains eagerly anticipated, and the world watches as Ronnieiseverywhere's destiny unfolds in extraordinary ways.
WATCH Our latest Episode with Kennedy Agyapong in South Africa below:
Source: Ronnie, Contributor