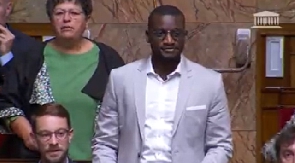 A sitting of the French Parliament was suspended after a Black lawmaker was asked by another to "return to Africa."
NUPES MP Carlos Martens Bilongo was on his feet making a submission when the yet-to-be-identified colleague said to be of the far-right bloc yelled at him.
A visibly shocked Bilongo, member of left-wing France Insoumise party, and colleagues on his side of the House vehemently protested at the phrase.
Subsequently, a leader of the Parliament demanded which particular MP had uttered the phrase, but no one owned up as the far-right bloc started shouting.
The session was temporarily suspended.
Speaking outside Parliament after the incident, Bilongo expressed grave reservations at the comment and described it as a "shame," and something he never in his life thought would be raised in Parliament.
Bilongo is a Member of the Foreign Affairs Committee who was born on December 31, 1990 in Paris, he is the MP for Val-d'Oise (8th district).
The lawmaker is a 31-year-old from a Congolese background.
CLICK HERE TO DOWNLOAD PRESS RADIO MOBILE APP
Source: www.ghanaweb.com