Five popular Nigerian female celebrities extremely secretive about father of their baby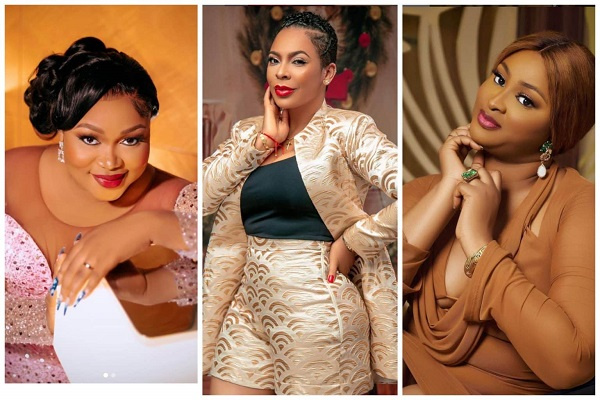 Celebrities always view having an extramarital child as wrong, disgraceful, demeaning, and shameful.
However, some famous women have been spotted online, which could be the result of a number of factors, such as an unsuccessful marriage proposal that was promised.
These celebrities frequently conceal the name of their baby's father in an effort to avoid escalating problems around their situations.
In this article MyNigeria looks at five famous Nigerians who keep the identity of their baby's father very private.
Five female celebrities who have kept identity of their baby daddy a secret
1. Halima Abubakar: After posting a photo of an American nursing mother to announce the arrival of her son in April 2020, Nollywood actress Halima Abubakar stirred up controversy online and was accused of stealing.
She then acknowledged that the picture wasn't of her child and said she couldn't use it because he was delivered too soon.
The issue at the time really distracted people from Halima's baby's father, and she continues to keep his identity a secret to this day.
2. TBoss: Due to her frank demeanor and responses to online hot button issues, the former BBNaija star is one of the most well-liked housemates on the reality TV program.
Although TBoss was able to keep her pregnancy a secret from the prying eyes of the public in 2019, there are rumors that it was her first child.
When the reality TV star finally made her child's birth public, there were discussions online over the child's paternity.
Although the public is still in the dark about the biological father of TBoss' baby, numerous public people and politicians, including Olakunle Churchill, Adams Oshiomhole, Uti Nwachukwu, Dino Melaye, and Ubi Franklin, have been connected to her.
All the guys, however, denied paternity, and to this day, TBoss has refused to identify the father of her child.
3. Ruth Kadiri: Before having their first child in 2019 and second child in 2022, the Nollywood actress married her husband in a secret ceremony.
Ruth keeps her husband's birthday and wedding anniversary private from the public unlike her coworkers, which shows how private and secretive she is about her marriage.
4. Etinosa Idemudia: Online discussion was sparked by Etinosa Idemudia's baby's coming in 2020, especially given her purported chastity vows.
The actress made the same decision as others to keep the name of her baby's father a secret, and she did not deny or confirm the rumors that Nigerian singer MC Galaxy was the cause of the pregnancy.
5. Queen: Queen, a former contestant on Big Brother Naija, shocked many of her followers and famous people in January 2023 by announcing she was pregnant.
The reality TV actress posted a maternity photograph on her Instagram page to announce the arrival of her child.
Shortly after Queen's birthdate became widely known online, a leaked chat between a doctor and Nigerian skitmaker Promise Kelvin Anagbogu, often known as Lord Lamba, led to claims that he was the Queen's biological father.
Source: www.mynigeria.com