Final-year Ghanaian medical students in Ukraine cry for urgent attention over expulsion threats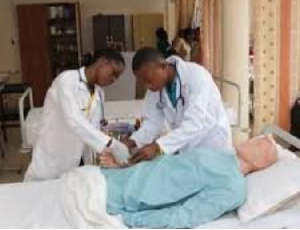 Some Ghanaian medical students training abroad have a desperate concern about their futures as there has been an unusual delay in the release of their scholarship monies from the Ghana Scholarship Secretariat.
For a number of these students, several notices from their schools of studies have been given them, and soon, they could be withdrawn from their studies, and eventually from the school.
Speaking to GhanaWeb, one of the desperate students, Seth Ofori Nyanzu, a final year student of Donetsk National Medical University in Ukraine, pleaded with the secretariat to help him graduate.
He fears if the secretariat does not intervene soon, his six to seven years in medical school would have all gone to waste and that would mean that his life would become a mess.
Explaining the genesis of all these issues, Seth said that all seemed to be going well until the Russia-Ukraine War started in 2021.
"I'm a final year student in Ukraine and I happen to be a beneficiary of the Scholarship Secretariat in the year 2019/2020 when I was in my third year. At that time, I had already been put on expulsion list, and due to the fact that I did not pay my tuition fee, the school at that time – Donetsk National Medical University, had put me on expulsion list.
"During that period, the Scholarship Secretariat had engaged us and had promised that they were going to offer some scholarships to needy students. Fortunately, I was connected and I got that opportunity to benefit from the secretariat. That year, though the money came very late – that was when we entered 2020, but we were paid in full for the 2019/2020, so I didn't have any issues," he said.
He added that, "The one for the 2020/2021 academic year also came but during that time, we didn't receive the money until we got to the end of the academic year in 2021. They told us they were going to give us the stipend and the book allowances so we waited until that academic year was over and we entered into 2021/2022 academic year. That was in my 5th year.
"We waited the whole of 2022 but the money didn't come until we entered into 2022 and they promised they were going to pay. By then, we had had a series of meetings with the secretariat, with our coordinator, even with the scholarship administrator himself. There was even a time he was travelling and at the airport, he promised us that they were going to pay and that already, the money had been sent to the Ghana embassy in Berne and that they were going to pay us within that week that he was speaking with us. That was in January, and unfortunately in February, the war came," he explained.
The final year medical student further stated that although the war brought a lot of people back to Ghana, he and a number of very needy students could not afford such a move.
He explained that such a move would have meant that they would have to backtrack another two years just so they can continue their education in Ukraine.
Besides, he added, he and others like him were already in their final years and the conditions presented by the Ukrainian authorities would not have helped them.
"So, when the war came, there were issues with people moving from places to another, and about two weeks after the war, all lectures resumed normally in Ukraine but online, and for them, they were expecting us to pay our fees because they were offering us lectures. We communicated this to the Scholarship Secretariat, but through it all, after the several, countless meetings with promises after another, then there was an issue of they did not know whether to pay us or not, and that they did not know if we were attending the lectures and the fact that some had returned home and so there was no need for them to pay us.
"They then requested for evidence from us to show that we were still in school and we gave all the necessary documents and evidences, to the extent that we gave them the expulsion lists from the schools. In fact, we tried every other means but the secretariat, led by Hon Kingsley and Hon Joseph Djaba, who's responsible for the Schengen countries and that of Ukraine, and they added another coordinator, Mr. Richard Gyamfi, several emails have been sent."
He said while some of his colleagues have received approval for payment, those without political links have been left hanging.
"Sometimes, they have even told us not to text them again and that we should talk to the secretariat. Even those responsible to us are not ready to answer question, they are not willing to talk to us. Unfortunately for us, we only heard that some people among us have been given approval for payment, but for some of us without any strong political links, or someone to make a good case for us, we are left hanging.
"For me, for instance, I am a final year student and I'm just about to write my final exams and graduate, but because I've not paid my fees, my school wants to expel me to prevent me from writing my final exams, and for that matter, I may have to repeat one more year. For some of us, we couldn't come back to Ghana to finish our studies because we only had one more year to complete, and the conditions for people to come to Ghana was that they were not going to admit anybody beyond third year or fourth year," he added.
Seth Nyanzu is hopeful that the Scholarship Secretariat would urgently come to their aid and help them complete this long journey of training to be doctors.
He also expressed great worry because he said that there have been instances where they have been warned against speaking with the media, but he said this is the only way he can get the attention of the right authorities in redressing his issue.
"So, we are pleading through your medium, please the Scholarship Secretariat should pay, at least, some of us that we are depending on this for our survival. The money that is needed if our fees so that we can just graduate in peace because I can't spend six, seven years in school and because of a year or two – and for two years now, the Scholarship Secretariat has not paid us students from Ukraine anything… and to some extent, we are even being threatened that we shouldn't go to the media, but yet nothing has been done," he explained.
Source: www.ghanaweb.com