The recently- concluded World Federation of Honorary Consuls (FICAC) Pan African Conference witnessed a distinguished delegation's visit to Otumfo Osei Tutu II, where the esteemed leader was honored with a citation.
The delegation, comprising 15 Honorary Consuls from various countries was led by President Hon. Nikolaos Margaropoulos and accompanied by Vice President Hon. Asif Chowdhury, and Secretary General of FICAC Hon. Purrshottam Bhaggeria.
Accompanying them were the Dean Hon. Dimitrios Avraam, Deputy Dean Hon. Subhi Accad, and General Secretary of HCC GH Hon. Kwame Acquah.
The visit to Otumfo Osei Tutu II, a highly respected leader of a nation rich in history and tradition, marked a significant occasion for fostering collaboration and strengthening ties between FICAC and the region.
It provided a platform to discuss shared challenges, explore avenues for cooperation, and celebrate the achievements of the esteemed monarch.
During the visit, the delegates had the privilege of presenting Otumfo Osei Tutu II with a well-deserved citation.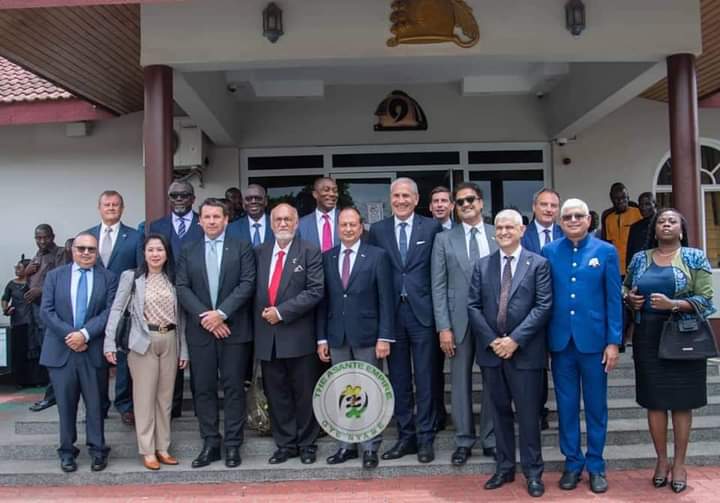 This citation recognized his exemplary leadership, commitment to his people, and unwavering dedication to promoting peace, unity, and development within his kingdom and beyond.
It served as a testament to his remarkable contributions and invaluable role in advancing the welfare of his nation and the African continent as a whole.
The interaction between the FICAC delegates and Otumfo Osei Tutu II was characterized by mutual respect, meaningful dialogue, and a shared vision for a better future.
The exchange of ideas, experiences, and perspectives was enriching, fostering a spirit of collaboration and unity among the participants.
The presence of the HCCGH representatives further enhanced the visit, as their expertise and insights added depth and relevance to the discussions held.
Their contributions highlighted the importance of cooperation between regional and international bodies in addressing common challenges and working towards sustainable development.
Expressing their gratitude, the FICAC Pan African Conference delegates extended their heartfelt appreciation to Otumfo Osei Tutu II for graciously hosting them and sharing his wisdom and hospitality.
They departed with a renewed commitment to advancing the mission of FICAC and working collaboratively towards a brighter future for Africa.
The visit to Otumfo Osei Tutu II served as a reminder of the power of partnerships, dialogue, and mutual respect in promoting peace, unity, and progress.
It underscored the significance of such engagements in building bridges, strengthening relationships, and forging a path towards a more prosperous and harmonious Africa.
About FICAC:
The World Federation of Honorary Consuls (FICAC) is an international organization dedicated to promoting cooperation, dialogue, and understanding among honorary consuls worldwide. FICAC plays a vital role in advancing diplomacy, facilitating international relations, and fostering economic development.
About Otumfo Osei Tutu II:
Otumfo Osei Tutu II is the highly respected leader of a nation known for its rich history and tradition. His leadership and commitment to promoting peace, unity, and development have earned him immense recognition and respect both within his kingdom and beyond.
About HCCGH:
The Honorary Consular Corps of Ghana (HCCGH) represents honorary consuls in Ghana who play a crucial role in facilitating international relations, promoting trade and investment, and safeguarding the welfare of their citizens. HCCGH serves as a platform for collaboration and knowledge-sharing among honorary consuls in Ghana.