Fetish priestess storms son's school to curse student who stole his mobile phone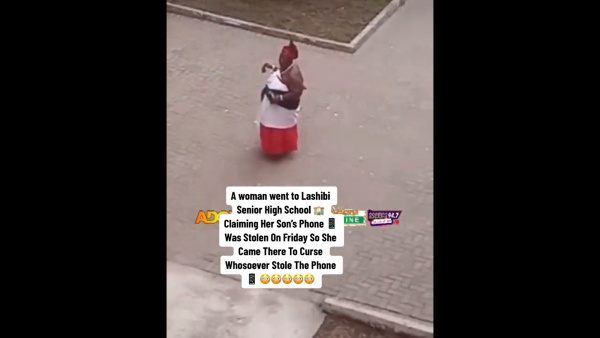 A fetish priestess took matters into her own hands and stormed her son's school to curse a student who allegedly stole her son's mobile phone.
The incident occurred at the Lashibi Senior High School.
In the video that captured the incident, the fetish priestess was seen dressed in her fetishism regalia with a bell in her right hand and what appears to be a bottle in her left hand.
The incident quickly gained attention in the school, with students coming out of their classrooms to have a view of what was going on.
She was captured going up and down on the pavement of the school and could be heard reciting some incantations.
She claimed that her son's phone was stolen last Friday, July 29, 2023.
One of the students who recorded the incident lamented the situation and expressed shock at the event.
"This is Lashibi Senior High, a fetish priestess just entered the school because there is no security. The woman is saying someone stole her son's phone.
"It is really hard in Accra. So, are we safe in this school? You are in this school and a fetish priestess has come into the school, look at what she is doing," he said.
The student who captured the incident mentioned that one Abass who is believed to be a student brought in the priestess to reclaim the stolen phone for him.
WATCH Our latest Episode with Kennedy Agyapong in South Africa below:
Source: www.ghanaweb.com