Fetish priest calls on Otumfour over lock-up of his shrine by alleged thugs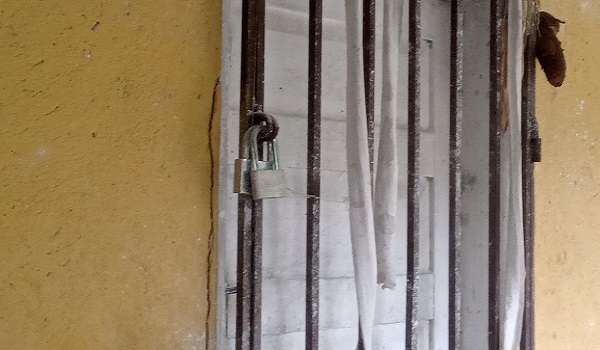 A fetish priest who has had his shrine locked up is currently calling on Asantehene, Otumfuo Osei Tutu II to come to his rescue.
Speaking to the media, the worried priest, Opanin Boadi Panin Ababio who is the Obrempong Agyemang Tano Bosomfour said his shrine has been locked up for almost a year now without any justifiable reasons.
Expressing how the situation has negatively impacted him and the people who visit the place for consultation and other healing purposes, Opanin Boadi Panin Ababio said the gods were not happy.
He has however appealed to the Ashanti overlord Otumfour Osei Tutu II to come to the rescue.
Accusing some thugs of storming the palace to lock up the shrine, the Tano Bosomfour further fingered the chief of Kwamo for being the brain behind the closure of the shrine.
According to him, Tano which is supposed to be spiritually fortified before the Sikadwa is now striving with hunger due to the shrine's closure resulting from abuse of power by the Kwamo chief.
"What is the meaning of this? That's why I'm pleading with our overlord. I have gone to inform him already. He assigned Baffour Sumankwa but he did nothing, and I've informed him again that the Tano shrine has been locked up. Tano is sadly going to eat outside during this Akwasidee, all because of the closure. I'm pleading with Otumfour, I've already whisper into his ears and I'm doing that again because I'm not supposed to stand before him according to traditions. I have said it once, twice and at this third time I'm saying it through the media. I'm pleading with him to send one of his spiritual wives to come here to unlock the shrine so that the Tano will stop eating from outside. I'm pleading because Tano is supposed to eat during Fodjour before the Sikadwa eats on Awukudae," he said.
"Who is he to lock up Obrempong Agyemang Tano for more than ten months now, something even the Asante overlord cannot do? I'm therefore pleading with Otumfour to come to the rescue of this unfortunate situation so that Obrempong Agyemang Tano can eat inside the room," he appealed.
Giving a brief history of the Tano Agyemang shrine, the Bosomfour who is also the Ekuona Abusuapanin of the area indicated how the Obrempong Agyemang Tano Bosomfour played a major role in the formation of the Ashanti kingdom.
According to him, when it comes to many war victories and the many successes chalked by the Ashanti kingdom, it also played a major role in it.
Revealing how Asante can never forgo the Tano shrine, the worried priest called on Otumfour to immediately act on the matter to help rescue the situation.
He also appealed that thorough investigations be conducted so that perpetrators of the act be brought to book.
Photo of the locked shrine below;
Source: www.ghanaweb.com