Fameye's new song 'Not God' sparks excitement and anticipation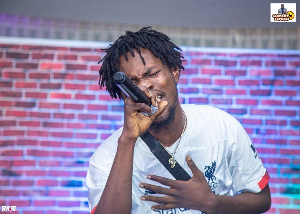 Fameye
, the talented Ghanaian musician, is all set to captivate his fans with his highly anticipated single titled 'Not God' on August 4,2023.
The song holds a deep meaning for Fameye as he opens up about the inspiration behind it, shedding light on personal challenges within his immediate family, particularly concerning his children. With undisclosed personal matters also serving as additional inspiration, Fameye is set to deliver a composition that resonates with listeners on a different level.
Additionally, the song finds its inspiration in the criticisms voiced by both media critics and passionate fans, all of whom have provided insights on how to elevate his music to an international level. According to them, his musical endeavours have primarily catered to local communities, but now there is a growing desire to transcend the borders of Ghana.
In this record, he draws inspiration from legendary Ghanaian musicians such as Daddy Lumba, Okomfo Kwadee, and Daasebre Dwamena, aiming to channel their greatness in creating a musical masterpiece that transcends time. With 'Not God,' Fameye believes he has crafted a song that will resonate with people for a very long time.
The song which was originally titled "Vienna City" due to the fact that it was recorded at Vienna City in Kumasi, Ashanti region, underwent a transformation that led to its current title, 'Not God.'
'Not God' holds a special place in Fameye's heart, and after careful consideration, he selected the track among a collection of exceptional songs, some of which include collaborations with renowned artists. With a clear vision in mind, Fameye plans to accompany the release of the song with a captivating music video.
WATCH Our latest Episode with Kennedy Agyapong in South Africa below:
Source: Nnamdi Okirike, Contributor