Europeans evacuated from Niger as neighboring West African juntas warn against intervention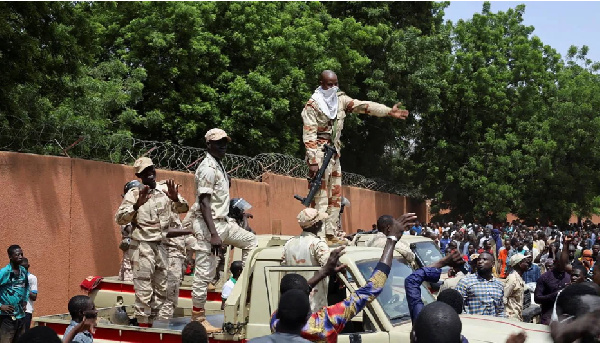 France was preparing to evacuate French and European citizens from Niger on Tuesday after a presidential coup plunged the West African nation into a political crisis that polarized neighboring countries in the region.
French Foreign Minister Catherine Colonna said the first evacuation plane was "airborne," but did not specify if the flight departed for or from Niger.
There are "several hundred French and several hundred European" citizens that wish to leave Niger and will be evacuated by France, the minister told French broadcaster LCI, adding that she hopes to see the operation completed in 24 hours.
The ministry said it would remove French and European citizens on Tuesday due to the "situation in Niamey," where pro-military supporters rallied outside the French Embassy in the Nigerien capital to demonstrate against the country's post-colonial influence.
A message from the French embassy to French citizens in Niger, seen by CNN, instructed those wishing to be evacuated to bring food and water with them while they wait before boarding.
Italy will also offer a special flight to evacuate its citizens from Niamey, the country's Foreign Minister Antonio Tajani announced Tuesday. There are less than 90 Italian civilians in Niger and just over 300 military personnel, a spokesperson for the Italian Foreign Ministry said.
At the same time, Burkina Faso and Mali said in a joint statement that any military intervention against Niger would be considered war on them, after other West African leaders imposed financial and travel penalties against the coup plotters.
"All military intervention against Niger will be considered equivalent to a declaration of war against Burkina Faso and Mali," the two countries said in a joint statement on Monday.
The dramatic ouster of President Mohamed Bazoum on Wednesday provoked split reaction from countries in the Sahel region, where the threat of militant extremism in recent years has destabilized local governments and led to volatility.
The Economic Community of West African States (ECOWAS) on Sunday issued a stark warning against the military junta and gave it one week to release and reinstate Bazoum, warning they did not rule out the "use of force" if their demands were not met.
The economic bloc imposed a travel ban and asset freeze for the military officials involved in the coup attempt, as well as for their family members and the civilians who accept to participate in any institutions or government established by the officials.

Security forces prepare to disperse pro-junta demonstrators gathered outside the French embassy, in Niamey on July 30, 2023
WATCH Our latest Episode with Kennedy Agyapong in South Africa below:
Source: edition.cnn.com