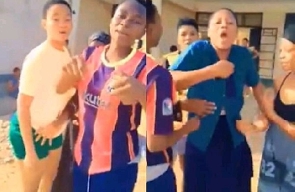 Parents and guardians of the dismissed Chiana Senior High School students who used unsavoury language on the President, have asked the Ghana Education Service (GES) to pardon them and not leave the students to their fate.
"I plead with the President to have mercy on them. Let's not throw them out to the wolves. These are children who need to be moulded to become better in society," Mr Inusah Hamid, a guardian of one of the dismissed students said in an interview with the Ghana News Agency in Accra.
Some eight female students of the Chiana SHS were captured in a viral video raining invectives on President Nana Addo Dankwa Akufo-Addo.
The Ghana Education Service (GES) recommended the dismissal of the students for using unsavoury language on the President.
Prior to their dismissal, the students who had been on suspension, were spotted in a video pleading with the GES, the Chiana SHS and the President to forgive them for their reprehensible comments.
The Ghana Education Service's investigation into the incident confirmed that the students had made "derogatory comments" and used unsavoury language against the President in a viral video.
Mr Inusah Hamidu, senior brother to Huzaina Daabo Hamidu, one of the dismissed students, said: "Our humble plea is for the GES to have mercy on them and allow them to finish their studies."
He said stringent as the punishment appeared, he did not think it was an ultimate solution to the problem and would not entirely deter similar behaviours , stressing that counselling in second cycle institutions needed to be strengthened.
Mr Hamid, who admitted that the students faulted in their comments about the President, called for the reintroduction of corporal punishment with counselling as an alternative, saying "I don't believe the outright dismissal is the way to go because it will deny them of a better future".
"What they did was wrong, and no responsible parent or individual should condone what they did. Even if you disagree with your father, you don't go out and attack or insult him, you do it humbly and in a respectable manner," he said.
He called for the empowering of counselling units in schools as students continued to imitate immoral practices on social media, which eventually shaped their lives.
Another parent, Marthin Akleyiira, father of Janet Neanbil, told the Ghana News Agency his ward had been traumatised by the incident and continued to cry uncontrollably in the wake of her dismissal.


He confirmed that a video had been recorded on social media to apologise to the President, adding that the "the behaviour of the girls was terrible; my ward has been brought up in a Godly manner, but I am sure she did that out of peer pressure."
Source: GNA