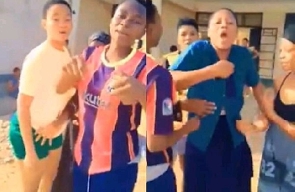 The minority caucus of Parliament has said that the decision of the government to dismiss the 8 Chiana Senior High School students, who were captured in a viral video insulting President Nana Addo Dankwa Akufo-Addo, is too harsh.
According to Peter Nortsu Kortoe, the Ranking Member of the Education Committee of Parliament, even though the behaviour of the students was appalling, sacking them can not be the best punishment.
He called on the Ghana Education Service to reverse its decision since it could destroy the future of the students.
"As a Minority, we condemn the conduct of the students. We will not encourage any student to insult those in higher positions for any reason at all. The behaviour of the student is condemnable, but we are of the view that the punishment meted out to the students is harsh."
"Suspension could be a better option because when they are suspended, they would have learnt some lessons. But to dismiss them, it's going to have an effect on their future lives. So [GES] can recall the students and rather suspend them",
The 8 students were sighted in a video in November 2022 on social media, abusing the president verbally for the economic hardship in the country.
The Ghana Education Service (GES) on Wednesday, January 11, 2022, approved the dismissal of the 8 students after it was recommended by their school.
Portions of a statement by GES read, "Management of Ghana Education Service (GES) has given approval for the dismissal of eight students with immediate effect to serve as deterrence to other students".
The statement also described the act of the dismissed students as unacceptable and an abuse of the codes of conduct in Ghana's educational system.