Diamond Appiah details how McBrown's husband proposed to her at a Chinese restaurant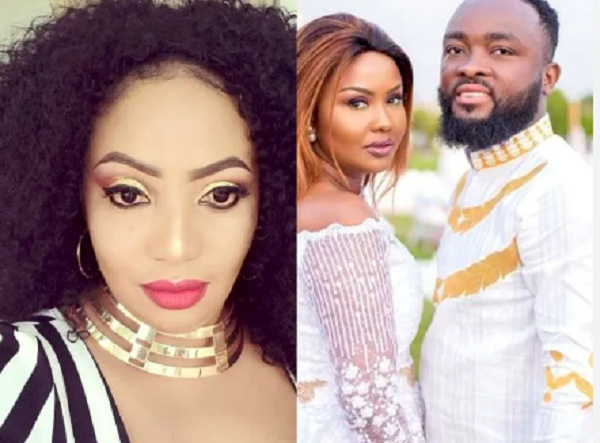 Diamond Appiah has responded to claims that she once dated Mr. Maxwell Mensah, prior to tying the knot with
Nana Ama McBrown
.
Earlier, Diamond Appiah's former best friend, Naana Brown, stormed social media with claims that Diamond dated Maxwell a couple of years ago.
Naana Brown established without proof that Diamond Appiah snatched Mr. Maxwell Mensah from his then-girlfriend, Mzbel.
"Nana Ama's husband, Maxwell was dating Mzbel and Diamond snatched him. She knew he was rich, and so she did all he could to snatch him. Diamond later introduced him to one of her friends, a well-endowed wealthy woman who also took him away from Diamond not long after they were introduced.
"They exchanged numbers and days later, she discovered her friend started going on dates with Maxwell too," Naana Brown stated during an exposé spree on social media.
But in response to the above allegations, Diamond Appiah did not rule out the fact that Maxwell proposed to her but she disputed claims that they dated.
She said they were linked through popular highlife musician, Kofi Nti, and met only once at a Chinese restaurant.
"I am not part of the women Maxwell has dated in the industry before marrying McBrown. Kofi Nti and Nana Ofori are witnesses to this. Naana who can you mention as your witness? Even Mzbel is aware that I never dated Maxwell. Maxwell proposed to me alright. He did so through Kofi Nti the musician. He told Kofi Nti that he likes me so he should come introduce me to him and we met only once.
"We went to the Chinese restaurant at Kingsby and that was all. I had not met him since then, after that meeting, I realized he was Mzbel's ex-boyfriend. So, I even confronted Kofi Nti why he wants to link me with someone who once dated Mzbel. It ended there," she stated in a viral video.
Diamond added, that Maxwell never called her after the 'Chinese restaurant date', instead, he opted for one of her friends.
"Maxwell never called me again until I later heard that he bypassed me to date one of my friends, Abena," she added.
Source: www.ghanaweb.com