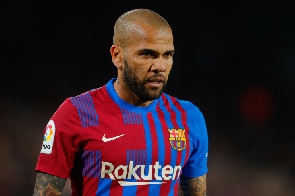 Brazilian football legend, Dani Alves, has been dragged to court after being accused of sexually assaulting a lady in a nightclub in Spain, Catalonia's Supreme Court said on Tuesday, January 10, 2023.
According to a report filed by Reuters, the former Barcelona and Juventus defender denied any wrongdoing after Catalonia's Supreme Court confirmed him as the accused.
Catalonia's Supreme Court in a statement said that it had opened proceedings "for an alleged crime of sexual assault as a result of the complaint filed by a woman for events that allegedly occurred in a nightclub in Barcelona last month".
"The statement did not specifically name Alves but a court spokeswoman confirmed to Reuters he was the subject of the complaint. She said the case was under investigation but the court had no more information," Reuters added in their report.
Danie Alves despite admitting that he was at the nightclub in question denied the allegations that he sexually assaulted someone.

"I was dancing and having a good time without invading anyone's space. I don't know who this lady is…How could I do that to a woman? No," he said.