Dangote puts his $45.5 million private jet up for sale after 13 years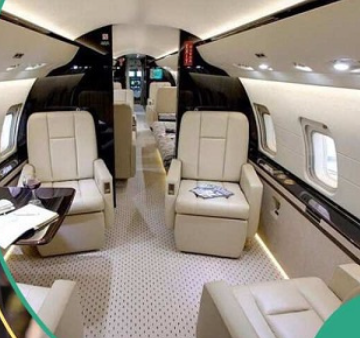 Nigerian billionaire and industrialist, Aliko Dangote, has listed his private jet for sale on the market, billionaires.africa has reported.
The move by Africa's wealthiest man is said to be a strategic one towards streamlining some of his extensive portfolio of luxury assets.
Dangote, who already owns a multimillion-dollar luxury yacht, has now put his Bombardier Global Express XRS jet up for sale. The aircraft was purchased at $45.5 million some thirteen years ago when he attained 53 years.
The private jet, according to billionaires.africa, received a paint job back in July 2014 and comes with an array of features providing lavish comfort to about 15 passengers.
The aircraft, which is often used for international and regional travels by the business mogul also comes with a forward cabin, four executive club seats with two foldout tables, a forward crew lavatory, and an aft lavatory for convenience and privacy.
Dangote's latest move to sell his private jet marks a shift in his wealth management portfolio – a move that is often adopted by the elite.
Meanwhile, Nigeria has a vast private jet market with many wealthy individuals owning an aircraft or renting them. In addition, maintaining the aircraft could run into hundreds of thousands of dollars.
According to flyalliance.com, the average maintenance cost of a private jet is around $500,000 to $1 million. This is however coupled with parking fees, avionics upgrades, interior refurbishments, pilot fees, among others.

Bombardier Global Express XRS jet
Source: www.ghanaweb.com