Court dismisses lawsuit against Black Sherif over cruise ship performance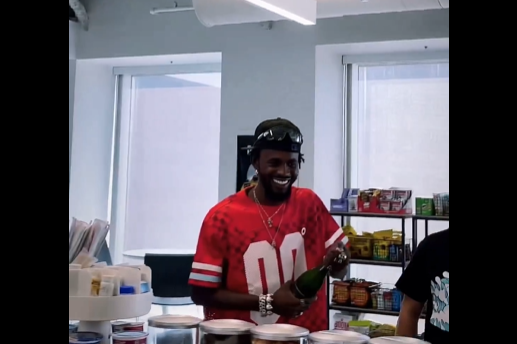 The High Court at Adenta has ruled in favour of Ghanaian musician Black Sherif, dismissing a lawsuit filed by Cruise People Ltd.
Cruise People Ltd had sued Black Sherif over an alleged breach of a performance contract for a cruise ship show in Athens, Greece which was scheduled for August 19, 2023.
Cruise People Ltd., led by promoter Daniel Vanderpuje, terminated the contract before the event, citing publicity breaches. The promoter demanded a refund of the $20,000 deposit from Black Sherif's management, leading to a legal battle.
Black Sherif's legal team, represented by Dominic Brenya-Otchere, Kenneth Paa Kwesi Agyir, and Esther Addai of Sam Okudzeto and Associates, argued that the dispute resolution clause in the contract mandated any conflicts be settled exclusively in the United Kingdom.
Representatives of the Cruise People Limited fought off this claim insisting the court had jurisdiction to handle the case because both parties are Ghanaians and ply their trades in Ghana.
The court, after ordering written submissions, granted Black Sherif's application on November 16, stating that the dispute's connection to Ghana was minimal.
The court further struck out Cruise People Ltd.'s lawsuit, clearing Black Sherif of any pending legal action.
A source close to Black Sherif suggested that if Cruise People Ltd. pursues the case in the proper forum, they would counterclaim for the full contract sum, interest, and damages for breach of contract.
This victory marks a significant legal resolution in the Cruise People saga, allowing Black Sherif to continue his career unhindered.
Background
Cruise People Ltd had requested to book Black Sherif for the cruise ship performance in August.
Out of a $40,000 booking fee, sources claim the complainant paid the musician's agency an initial deposit of $20,000.
The contract, however, did not stipulate that promotional videos have to be produced for a press conference prior to the event that has not yet taken place.
In an intriguing turn of events, however, the cruise organiser and businessman put pressure on the agents to provide promotional videos from Black Sherif, threatening to cancel the agreement if the videos were not provided—a violation of the terms of the contract.
Source: www.ghanaweb.com