COP Alex Mensah narrates how Bugri Naabu invited him in the name of 'scouting for new IGP'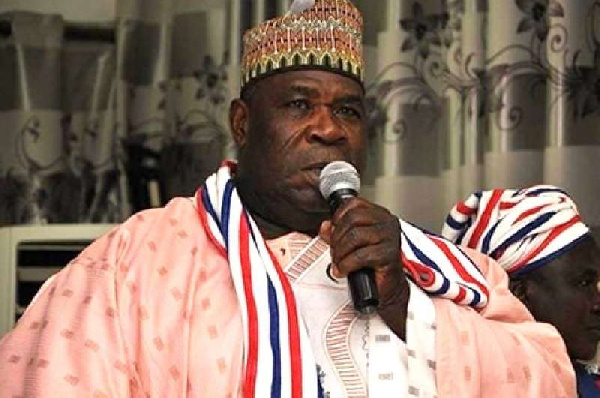 Alex Mensah, a Commissioner of Police (COP), has said that the paramount chief of the Namong traditional area in the Northern Region, Bugri Naabu, invited him to his office for a meeting that brought about the leaked audio plotting the removal of Inspector General of Police (IGP),
George Akuffo Dampare
.
He disclosed that during the meeting, Bugri Naabu made it clear that the current IGP, Dampare would be removed from office soon hence he is on the lookout for persons who can occupy the role when it becomes vacant.
During a committee hearing on Friday, September 1, 2023, COP Alex Mensah narrated how his colleague police recommended him to Bugri Naabu as a competent officer to occupy the role of Inspector General of Police (IGP).
"My going to Mr. Bugri Naabu was through his own invitation and the purpose was that the current IGP [George Akuffo Dampare], the probability that they are going to change him is high and they are looking for somebody who can do the job, and do it well.
"Bugri Naabu invited me because one of my boys, the police officers, had gone to tell him that if they were looking for a new Inspector General of Police (IGP), then the man that he thinks could do the job and do it well is COP George Alex Mensah. And Bugri Naabu said Oh, is that so? Then bring him and let me see him. That is why I [COP Alex Mensah] ended up at Bugri Naabu's office," he said.
COP Alex Mensah further disclosed that the utterances of Bugri Naabu gave him the impression that he was scouting for a new IGP because Akuffo Dampare would be sacked soon due to his poor management of the police service.
"My impression was that yes, he was scouting for a new IGP. He [Bugri Naabu] made it clear. And that is why I was even surprised about some of the audio, that is why I said the audio was edited because he said so many things about this current IGP what he has done, and what he's not doing.
"The promise he [IGP Dampare] gave him [Bugri Naabu] has not been satisfied and the fact that the likelihood of him being changed is about 100%, so he is scouting for one person who can do the work well," he narrated.
Background:
A leaked audio recording, allegedly involving a Police Commissioner and a politician discussing a plot to remove the Inspector General of Police (IGP), George Akuffo Dampare, has ignited public outrage.
In the said video, a Police Commissioner, who described himself as Mensa, was heard with Bugri Naabu, plotting the removal of IGP, Dr. George Akuffo Dampare over fears he will be too firm in the 2024 elections. The Police Commissioner, who is said to be retiring, is heard telling the politician that the IGP is too firm and will not allow machinations in next year's polls if he is not removed. He further notes that the nature of security the IGP provided during the Assin North by-election shows he will not allow any rigging in the polls.
"This IGP won't help us. He won't, he wants everything to be done fairly and we don't win elections that way. If we don't remove him, we can't break the 8, in politics we need machinations and this IGP won't allow that," the Police Commissioner is heard saying.
The Parliament of Ghana has set up a 7-member committee to conduct a probe into the leaked tape after calls by the NDC Members of Parliament.
Proponents of the government have however stated that the allegations in the said tape should not be taken seriously because the President, Nana Addo Dankwa Akufo-Addo, has no plans to change IGP Dr Geroge Akuffo Dampare.
Source: www.ghanaweb.com