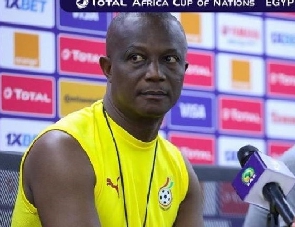 Former Black Stars management committee member Yaw Boateng Gyan has said that Charles Akonnor betrayed former Ghana coach Kwesi Appiah after accepting the Black Stars job.
Coach Kwesi Appiah appointed CK Akonnor as his deputy coach before he was sacked by the Kurt Okraku-led administration.
After Kwesi Appiah's sacking, there was a communique to the Ghana FA to appoint a local coach from the government and they had to settle on Kwesi Appiah's assistant CK Akonnor.
According to the former NDC National Organizer, Akonnor accepting the role as head coach of the Black Stars was a betrayal to Kwesi Appiah.
He explained that Kwesi Appiah appointed CK Akonnor to work with him thus he should have been loyal to reject the job when he was approached.
"If they sacked Kwesi Appiah, then it wasn't appropriate to appoint CK Akonnor as his assistant", he told Happy FM.
"CK Akonnor should have also rejected the offer when he was asked to take over the job from his boss Kwesi Appiah. It was a stab in the back.
"If the GFA claims the head coach (Kwesi Appiah) was not good then his deputy is also not competent for the job". The former National Organizer of the NDC also called for CK Akonnor's sacking after Ghana's defeat to South Africa in the 2022 World Cup qualifiers.
He added: "In my view, we should be honest with ourselves and sack CK Akonnor. We have a lot of talents here in the country but the problem has to do with coaching and the way we select players to the Black Stars".
Source: ghanasoccernet.com