CHRAJ boss 'blasts' 3 ministers for silence on #OccupyJulorbiHouse demo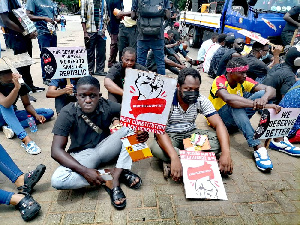 Joseph Whittal, head of the Commission of Human Rights and Administrative Justice (CHRAJ) has lamented government's quietness on the three-day #OccupyJulorbiHouse protests.
Whittal said it was unfortunate that for three security-cluster ministers have failed to comment on the protests given the incidents that marred it and the gravity of issues surrounding it.
"The power to protect citizens is given by citizens…," he stressed of illegal arrests of some protesters by the police and the subsequent move to bar protesters from marching.
"But for the Minister of Interior, Defense and National Security, we have not heard in respect of what has gone on is a bit unfortunate," he told a cross section of the media.
"IGP has spoken with leadership of protesters but when the matter is of national importance, it is important for the ministers to explain or even apologize if their agencies have gone a bit too far," he added.
The National Security Minister's name came yup during the protest in respect of an allegation by demo leader, Oliver barker-Vormawor's allegation that he had been offered a million dollars by the minister at a secret meeting.
On their part, the Ministers for Interior and Defence have yet to comment neither has the government formally responded to the protests.
The closest the government has come to commenting is of the governing New Patriotic Party (NPP) Youth Wing's statement on the matter.
On the police highhandedness, the CHRAJ boss submitted: "We are in a democracy, rule of law should be the basis for determining how the police and citizenry relate. There is the need for rapport between they and the citizens who are demonstrating.
"It is their right to demonstrate, so if they are on the street, don't approach them with the attitude of colonial mentality. If you don't do what we want, we will beat you. That is completely out of the way," he added.
Source: www.ghanaweb.com