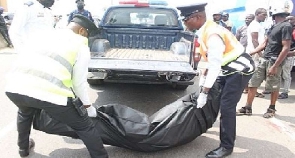 A mother, Josephine Sarpon and her 28-year-old son, Alexander, have been found dead inside their 3-bedroom residence at Gomoa Nyame N'adom near Buduburam in the Central Region.
According to residents, they had recently begun to perceive a foul smell emanating from the house of the deceased.
They, therefore, contacted the Kasoa Millennium City Police who went into the house and found the 28-year-old man lying in a pool of blood in a decomposing state.
His mother was also found in her bedroom, half naked with cutlass wounds all over her body.
It is suspected that the woman must have been raped before being murdered.
Both bodies have since been deposited at the Police Hospital Morgue.
Police have since commenced investigations into the incident.
Source: classfmonline.com