Checkout hundreds defy rains, queue up in front of US Embassy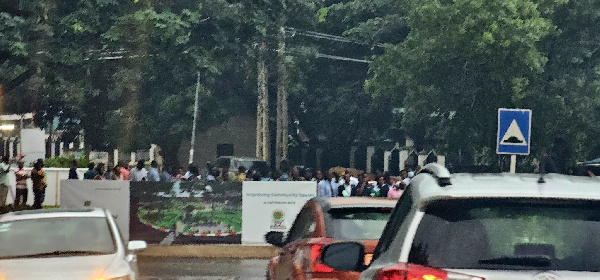 With a lot of conversations being had recently about people seeking greener pastures in more advanced countries, photos have emerged of a concerning situation at the entrance of one of the country's biggest foreign embassies.
In photos shared by a journalist at Metro TV, Annie Ampofo, on Twitter, scores of people are captured standing in long, winding queues as they await their turns to be attended to at the United States Embassy in Accra.
But even more concerning is the details the journalist shared that these persons were standing in the open although it was drizzling.
Carefully analysing the photos, there are no umbrellas or signs of anyone wearing raincoats as they defy the weather and wait in the queues.
Also, it can be seen from one of the photos that the tarred road is wet from signs of rains having poured down not too long ago.
Annie Ampofo, however, questioned why foreign embassies in Ghana treat citizens of their host country badly, asking how long it will persist.
"Why do foreign Embassies treat us this badly… This is the American Embassy… how long will this continue???
"Actually, it was drizzling when this pick was taken…" she wrote on her Twitter page.
It is no news that there have been several people, especially professionals like nurses, who have relocated from Ghana, to places like Canada, America, the UK, among others, as a way of escaping the growing economic times in Ghana.
Source: www.ghanaweb.com