Check out the new look of the viral drug addict who finished BECE with '6 As'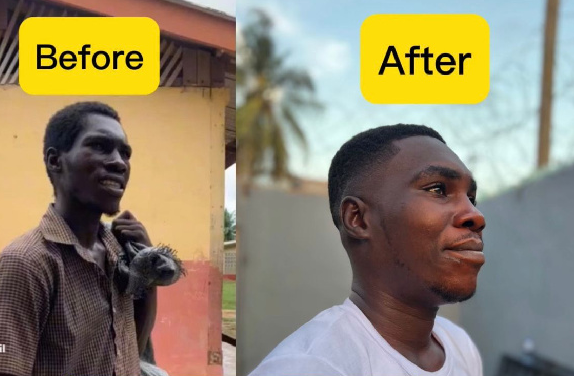 Prince Aniawu, the former student of Bishop Herman College who went viral, has been captured warning Ghanaian youth to stay away from drugs, using his current state as an example.
In the viral video, Prince said that his dream of becoming a lawyer had been shattered by his fall into drug addiction.
He said that because of his brilliance, he was offered a scholarship to study at the secondary level but his addiction to drugs has destroyed him.
"I went to Bishop Herman College on a scholarship from the District Assembly. I had 1 throughout, but only French gave me a grade of 4 at Junior High. So, the DCE invited me one-on-one and told me to just go to school. I went to school and I met a colleague and this is me today," he recounted.
Prince's cry for help in the viral video led to Pastor Elvis Agyemang, convener of Alpha Hour, donating GH¢12,000 towards seeking a rehabilitation program for him.
New audio visuals sighted by GhanaWeb, show a transformed Prince Aniawu, just weeks after his video went viral. From the tattered clothes and 'unkempt' hair, Prince now looks well-fed and fresh in the new visuals.
He could be heard thanking Pastor Elvis Agyemang and all the people who helped him to get back his life, in a video shared by Nana Tea, on YouTube.
View the pictures and videos of Prince Aniawu below: