Charles Okocha fights Ninalowo in American accent, Mr Macaroni cries in video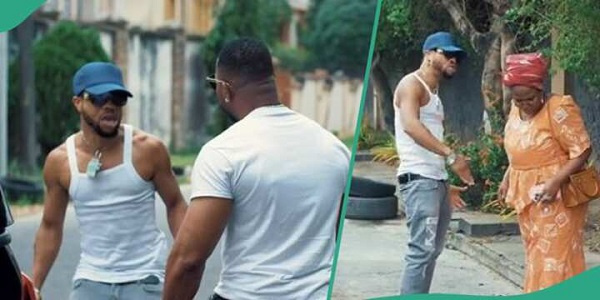 Recently released skit producer Mr. Macaroni's video with actors Charles Okocha and Bolanle Ninalowo included a clash of dialects and a display of strength.
The amusing video showed Okocha harassing Macaroni's on-screen wife, Mummy Wa, because he liked her. He spoke with a great American accent and attempted to convince her to go with him.
After engaging in a lengthy back-and-forth accent battle with Okocha for several minutes while fleeing from a physical altercation with the powerful actor, Ninalowo leapt into the scene and saved the woman.
As the video came to a close, Mr. Macaroni broke down when he saw his girlfriend in the arms of her rescuer since he couldn't compare to Ninalowo's physical attributes.
In one video, Bolanle Ninalowo and Charles Okocha made internet users giggle uncontrollably. The video also amply demonstrated Charles Okocha's comical persona thanks to his accent.
See some comments here
iamedemvictor: "Look at me from herroro."
official_revoltx: "From air roro" Charles Dey ment noting una fit tell me."
lasisielenu: "Na why I no Dey wan save people in trouble. Because what is all this insult."
brodashaggi: "Too many werey."
its_mikkyanu: "Biggest mistake is thinking this should be a skit, how can you've Charles and Nino in one set and not put this in cinema or Netflix or Prime . This story never end, Ahbeg Continue.. please."
Source: www.mynigeria.com