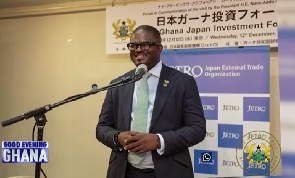 Former Minister of State at the Finance Ministry, Charles Adu Boahen's company, Black Stars Brokerage, is one of nine companies recently certified to operate as foreign exchange (FX) brokers.
The Bank of Ghana (BoG) via a January 5, 2023 statement announced that it had granted authorization to the former minister's firm and eight other FX broker institutions for the transaction of local and international FX on the forex market.
The statement explained that the development comes after the institutions have been granted approval per Section 3.13. 1 of the Ghana Interbank FX Market Conduct rules.
It added that they are to operate on the Ghana Interbank FX market effective January 1, 2023 to December 31, 2023.
Adu Boahen's company is a major player in the financial services sector and is known to play a key role in bond market transactions of the government along with Databank – a firm with Minister of Finance Ken Ofori-Atta as a co-founder.
Listed entities and further regulations
The entities listed are; Black Star Brokerage; CSL Capital; Fenics MD; ICAP African Brokers Limited; Obsidian Acherner; Regulus; Sarpong Capital; Savvy Securities and Terika Financial Services Limited.
The BoG further mentioned that it reserves the right to delist any authorized FX broker for non-performance or non-compliance with the FX Act and the Interbank FX Market Conduct rules.
The Central Bank added that an FX Broker, "shall not deal directly with a corporate entity; it shall not also buy or sell foreign exchange for its own account nor hold, borrow or lend to foreign exchange to an authorized market participant."
Adu Boahen loses his position over 'Galamsey Economy' film
Adu Boahen was relieved of his position by President Nana Addo Dankwa Akufo-Addo following his role in the Galamsey Economy documentary released by Anas Aremeyaw Anas.
In the said documentary, Mr Adu Boahen said that Vice President Dr. Mahamadu Bawumia needed US$200,000 as an appearance fee to meet prospective investors.
Mr. Adu Boahen is said to have told the undercover investigators who posed as investors that Dr. Bawumia would also require some positions from the investor for his siblings to get his backing and influence in establishing a business in Ghana.
The president also directed the Office of the Special Prosecutor to commence investigation into the issue.
See the full statement below: