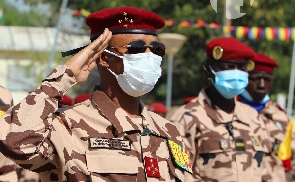 The Chadian government hs annonced foiling an attempt by a group of army officers to destabilize the Central African country with the view of undermining constitutional order.
A statement released on January 5, 2022 read: "This plan was devised by a restricted group of conspirators composed of 11 army officers."
It cited one Baradine Berdei Targuio, president of the Chadian Human Rights Organisation, as head of the coupists.
Security services have been arresting people linked to the plot since Dec. 8 and have seized military equipment, the statement said.
Chad is currently under a transitional government led by Mahamat Idris Deby Itno who was made president after his father died in 2021 whiles fighting terrorists on the frontline.
Authorities have cracked down on dissent in recent months as demonstrators took to the streets to demand a quicker transition to democratic rule, a Reuters report stated.
Source: www.ghanaweb.com