CEO of Ike City Honored At 1st Infantry Battalion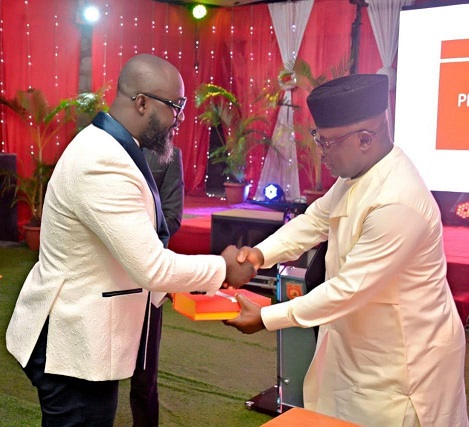 The CEO of Ike City, Mr. Ike Amoako, was recently honored by the 1st Infantry Battalion for his extraordinary contributions and unwavering support to the armed forces.
This unique recognition showcases the remarkable bond between the private sector and the military, emphasizing the vital role that civilian leaders can play in bolstering national security and supporting those who serve.
Mr. Amoako, a visionary entrepreneur and philanthropist, has built Ike City into a thriving multinational corporation, with interests spanning hospitality and infrastructure.
However, his success hasn't deterred him from acknowledging the importance of the armed forces and their selfless dedication to safeguarding the nation.
The 1st Infantry Battalion, one of the country's elite military units, commended Mr. Amoako for his consistent efforts in contributing to the welfare of military personnel and their families. Throughout his career, he has championed numerous initiatives aimed at providing financial aid, educational opportunities, and mental health support to active-duty soldiers and veterans alike.
Furthermore, under his guidance, Ike City has actively recruited and hired veterans, recognizing their invaluable skills and experiences acquired during their service.
Beyond philanthropy and employment opportunities, Mr. Amoako has demonstrated unwavering moral support for the military community.
He has been a vocal advocate for improved healthcare services and mental health support for soldiers grappling with the aftermath of their service.
His contributions have helped alleviate the burden faced by many military families and have elevated the overall well-being of those who have sacrificed so much for their country.
Accepting the honor with humility, Mr. Amoako expressed his gratitude to the 1st Infantry Battalion and all the brave men and women who serve in the military.
He emphasized that it was his duty as a responsible citizen and business leader to give back to those who protect the nation's freedom and security.
This inspiring recognition of Mr. Ike Amoako underscores the significance of corporate responsibility and collaboration between the private and public sectors.
The ceremony not only highlights the incredible achievements of Ike City under his guidance but also serves as a reminder that business leaders possess the power to create positive change beyond the boardroom.
As his peers and competitors look to follow his example, Mr. Amoako's legacy will undoubtedly serve as a guiding light for future generations of CEOs and entrepreneurs, inspiring them to contribute to the greater good and make a meaningful difference in the lives of their fellow citizens.
In conclusion, the recognition of the CEO of Ike City by the 1st Infantry Battalion stands as a testament to the symbiotic relationship between the private sector and the military.
Mr. Ike Amoako's tireless efforts to support and honor those who serve have not only enriched the lives of the military community but also exemplify the true essence of leadership and corporate responsibility in our society.
Source: Firstnewsroom.com