Cardi B reacts as husband, Offset publicly accuses her of infidelity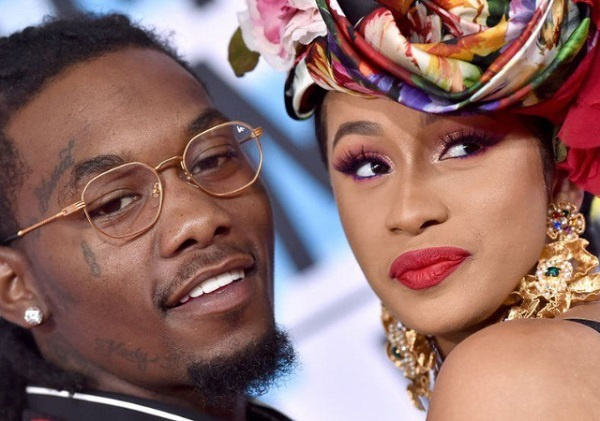 Cardi B, a popular musician, has reacted after her husband, Offset, went public with charges of adultery hurled at her.
Offset stated in an Instagram post uploaded on his official Instagram account that his wife slept with a man behind his back.
"My wife fcked a nigga on me gang yall nigga know how I come," Offset said.
Cardi B fashioned a song out of her answer on Twitter, implying that her husband was accusing her of the same thing he does.
The couple's relationship has been rocky in the past, with multiple public breakups and reconciliations.
Cardi B recently stated that if she ever divorced her spouse, she would write hit songs about the event. She further stated that if they divorced, she would marry another wealthy man.
Cardi B went on to advise her fans not to lend their ears to Offset's words. She emphasized that he was attempting to shift blame onto her for actions he knew he was guilty of. Urging her followers not to pay attention to Offset's words, she dismissed him as a mere "country man."
She asserted her identity as Cardi B and reminded everyone that she was not just anybody.
Cardi B confidently stated that if she were involved with anyone intimately, she would make it known, highlighting her refusal to engage in clandestine amorous affairs.
In her words:
"You can't accuse me of the things you know you are guilty of and I see that it's easy for you to blame everything on me.
"Don't pay attention to that country man you all.
"Come on now, I'm Cardi B and I think motherfuckers forget I'm Cardi B. If I was giving out my body to anybody, it would be out. I'm not just anybody."
Netizens have reacted to the incident, with many expressing sympathy for Cardi B and condemning her husband's actions.
Others said Offset can't handle everything he throws at her and that he should be more understanding of his wife's career.
authentik_fitwears said: "She said she's gon upgrade dude."
callmedamy said: "Let the divorce begins."
captain__linda said: "Did I hear her say upgrade."
ndukauba_anthonia commented: "So he can't work it out with her? Seek counselling, maybe he's gained extra weight or maybe doesn't know better ways of satisfying her…"
king_mayorblack reacted: "Man had a taste of his medicine."
iam_veekee_ reacted: "Most Nigerian men deserves a character like cardi B."
evelyn_ xX said: "Pray for your wife. Be a good husband."
worha sonia said: "The day offset married Cardi B he married both gold and thorn, he should pick which one he wants to live with."
Source: www.gistlover.com