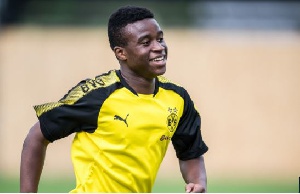 Youssoufa Moukoko appears to have been priced out of a big money move in the January transfer window after getting caught in an age-cheating scandal.
The Borussia Dortmund forward had been reported to be the subject of interest from Newcastle and Chelsea but the interest has now cooled off after both clubs were informed about the suspected reduction in age, the Mirror reports.
According to Mirror which quoted publications in the German media, Moukoko whose official age is 18 now allegedly 22 years.
The report mentioned that a birth certificate dated 2000 with the name Yousouffa Mohamadou and attributed to Moukoko was discovered in 2022.
According to Austrian news outlet Laola1 quoted by the Mirror, the surfaced birth certificate was leaked by Moukoko's adoptive father to a journalist.
The player's adoption first came to light in 2022, with an investigation into age fraud raised doubts about the Dortmund forward being 18 years old.
It is not the first time Moukoko's age has been a subject of discussion as the German FA have had to deny any wrongdoing on his part previously.
A previous DFB statement to German newspaper Bild read: "The DFB has already had a number of intensive discussions with Borussia Dortmund at various levels.
"At the DFB's request for careful consideration of the facts, those responsible at Borussia Dortmund always point to the authenticity of the papers and documents, which are also known by DFB. There is therefore no doubt about the correctness of the age of the player. In this matter, the DFB relies on the details of the home club of the player."
When asked to comment about the issue when it first came to light in 2022, Timo Preus, manager of Dortmund's Under-23s side, told Spox: "With Youssoufa, I can imagine that his age has only been guessed. Maybe in reality he is one or two years older. But certainly he is not 17. For him that is very difficult. There is nothing to blame him for, the boy is not cheating or anything."
His age-cheating comes in the wake of reports that Cameroon was struggling to raise a team for its Under-17 side after Cameroon Football Federation boss, Samuel Eto'o insisted on MRI tests for all players.

Moukoko, who was born in Yaounde, Cameroon, before moving to Germany was part of the German squad for the 2022 World Cup.
Source: www.ghanaweb.com