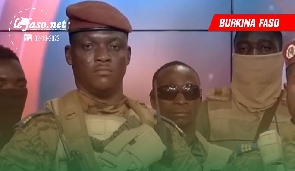 Burkina Faso has a new president in the person of Ibrahim Traoré, leader of the September 30, 2022 coup that toppled his former boss, Lt. Col Paul-Henri Sandaogo Damiba.
Traore's new position as president was announced on Wednesday, October 5, 2022, barely a week since taking over the leadership of MPSR (Patriotic Movement for Safeguarding and Restoration), the coup vehicle that brought ousted Damiba into office in January 2022.
A statement read on national television said Army Captain Traoré, had also been appointed Supreme Head of the Armed Forces.
The new president helped install deposed Damiba on January 24th and now he has received the support of the military hierarchy as of October 2, to lead the country in the fight against terrorists who are running amok in parts of the country.
Insecurity was the main reason for ousting his predecessor.
CLICK HERE TO DOWNLOAD PRESS RADIO MOBILE APP
A delegation from the West African regional body, ECOWAS, led by former Nigerien president Mahamadou Issoufou, has met with the new president with the view to impress on him to stick to earlier proposals to hold elections by mid-2024.
Source: www.ghanaweb.com