BRICS to control 30% of world's GDP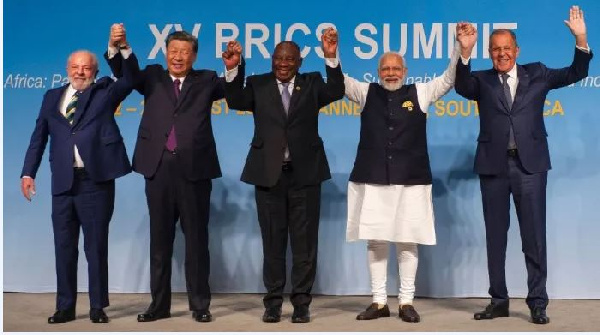 Argentina, Egypt, Ethiopia, Iran, Saudi Arabia and the United Arab Emirates will officially become full members of emerging economies bloc BRICS, which stand for Brazil, Russia, India, China and South Africa.
South Africa's President Cyril Ramaphosa, who announced the consensus decision during a Heads of State press briefing on the last day of the 15th BRICS Summit held in Johannesburg, South Africa, said membership of the six nations will take effect January 1, 2024.
The addition now means that the BRICS economic bloc will cumulatively control at least 30 percent of the global GDP with China leading the pack with a GDP of US$19.3trillion, followed by India at US$3.7trillion, Brazil US$2.1trillion, Russia at US$2trillion, Saudi Arabia US$1trillion and Argentina at US$0.6trillion.
The United Arab Emirates has a GDP of US$0.4trillion, with South Africa and Egypt commanding US$0.4trillion each, Iran US$0.36trillion while Ethiopia closes the list with a GDP of US$0.15trillion.
Put together, the expanded BRICS bloc boasts a combined GPD valued at US$30.51trillion, representing 30 percent of the global economy.
"As the five BRICS countries, we have reached an agreement on the guiding principles, standards, criteria and procedures of the BRICS expansion process, which has been under discussion for quite a while. We have a consensus on the first phase of this expansion process, and further phases will follow. We value the interest of other countries in building a partnership with BRICS," Mr. Ramaphosa said.
He added: "We have tasked our foreign ministers to further develop the BRICS partner-country model and a list of prospective partner countries and report by the next summit".
According to reports, the five BRICS nations have a combined gross domestic product larger than that of the G7 in purchasing power parity terms. In nominal terms, the BRICS countries are responsible for 26 percent of the global GDP.
BRICS has a combined population of 3.2 billion people, which is 41 percent of the global population; and 26.7 percent of the world's land surface is occupied by BRICS countries.
Comments on expansion
China President Xi Jinping, commenting on the expansion, said: "I welcome all the new members of the BRICS organisation. This membership expansion is historic, it shows unity and meets the demands of the growing world. I am confident that if we work with a common interest and in unity, we will reach greater heights".
Indian Prime Minister Narendra Modi also applauded the move and congratulated South Africa for successfully hosting the summit.
"On the 15th anniversary of BRICS, we have decided to expand it. India has always believed in the expansion of BRICS because we believe it will give us a new impetus. I would like to congratulate the new members of BRICS. India has ancient ties with all the new member countries. The expansion of BRICS and modernisation shows that all world institutions should change with time," he said.
For his part, President Vladimir Putin, who attended the summit virtually, said: "With the efforts they [leaders] have made, I would like to note that it turned out that this was a unique diplomatic mastery— including BRICS expansion. I would like to call for more expansion of BRICS around the world. We will also establish the procedures so that BRICS continue to grow".
Source: thebftonline.com