At least one person confirmed dead as South Africa is hit by 'earthquake-like' gas explosion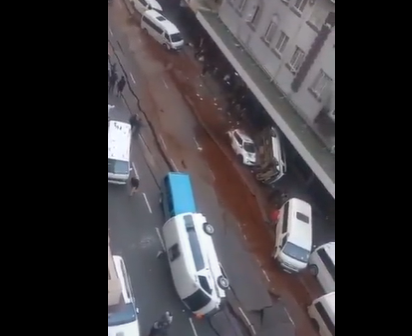 The largest city in South Africa, Johannesburg, was hit by a massive gas explosion on Wednesday, July 19, 2023.
Just like an earthquake, the gas explosion ripped streets apart, destroyed structures and left vehicles flying in the air.
According to a BBC report, at least one person died as a result of the incident which happened on Wednesday night with another 48 being injured.
Officials of the Gauteng province indicate that the cause of the explosion has not yet been determined but they suspect that it might have been caused by a rupture of some underground gas pipes.
The premier of Gauteng province, Panyaza Lesufi, on Thursday, said that 12 of the wounded persons are still receiving treatment in the hospital.
He indicated that several streets in Johannesburg have been closed to traffic with emergency services still on the scene assessing the damage and evacuating people where necessary.
The report indicated that the ground shook during the incident with loud bang moments before the earth opened, and a section of Breet Street collapsed.
A video of the scene of the explosion showed a street vertically split into two.
At least 20 vehicles vandalised by the explosion could be seen lying on the sides of the street.
Watch a video of the incident below:
P