Asantehene enstools Nana Bona Kessetare II as new Abirahene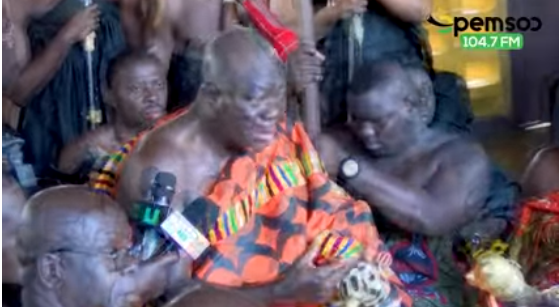 The Asantehene,
Otumfuo Osei Tutu II
, after several months of destooling chiefs, has now enstooled one.
On Thursday, August 31, 2023, the Asantehene enstooled Nana Bona Kessetare II as the Abirahene, the chief of the Abira Traditional Area, at the Manhyia Palace in Kumasi.
The enstoolment of the new Abirahene is the second in recent months against five destoolments of chiefs by the overlord of the Ashanti Kingdom.
A video of the enstoolment of Nana Bona Kessetare II, shared by Kumasi-based Opemsuuo Radio, showed him swearing an oath of Allegiance to the Asantehene.
With a sword held up, in his hand, Abirahene Kessetare II pledged to serve his people selflessly.
Before swearing the Oath, the Asantehene advised his new chief to be truthful and loyal to the Ashanti land.
He also urged the kinsmen of the Abirahene to support him in his new role and help him improve the livelihood of the people of Abira.
Watch videos of the installation below:
Source: www.ghanaweb.com