Asane Akroso bad roads: We'll take a cue from Assin North by-election – Residents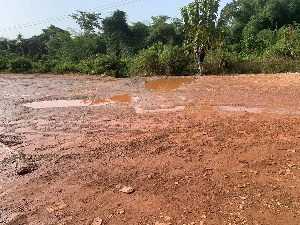 Residents of Asane Akroso Manso Constituency in the Eastern Region have expressed their frustration over the deplorable state of the roads in their area.
Taking inspiration from the aftermath of the Assin North Constituency by-election in the Central Region, the residents have announced their intention to use their votes in the upcoming 2024 general election to voice their dissatisfaction.
During an interview on the Ghana Yensom morning show hosted by Odehyeeba Kofi Essuman on Accra 100.5 FM, Kwame Tawiah, an opinion leader, conveyed the residents' grievances to the government.
He highlighted that the condition of the roads in Asane Akroso Manso Constituency is so severe that even motorbikes are unable to navigate them.
This dire situation has caused significant challenges for the community, especially during market days when farmers struggle to transport their produce due to the impassable roads, resulting in food wastage.
Additionally, the lack of accessible roads has made it extremely difficult for sick individuals to reach healthcare facilities in Akroso, the district capital, often requiring them to be carried on people's backs.
The Assemblyman for Tabitha Bedukrom Electoral area, Mr. Alfred Nyarko Baiden, revealed that it has been two years since the local assembly attempted to address the road issue by reshaping it.
However, approximately six months ago, he was informed by the District Chief Executive and the district works engineer that a contractor had been assigned to undertake the road repairs. Unfortunately, upon further inquiry, Mr Baiden discovered that the contractor had left to work on other government-assigned road projects in Kumasi.
Source: classfmonline.com