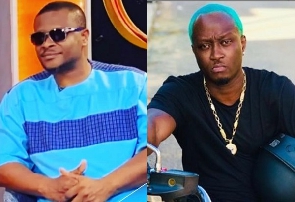 Legendary Ghanaian music producer, Appiah Dankwah, chiefly known as Appietus, has attracted the wrath of Papi, a member of the defunct music group, 5Five, and his manager, Bullgod after claims that he was never paid for works done on the hit song 'Muje Baya'.
In the year 2010, Ghana was blessed with a monster single from music duo 5Five titled 'Muje Baya' (Move Back) which featured Appietus.
In a 2023 interview with Citi TV, Appietus disclosed that the group lied to him and never paid for his work, an allegation that has caused a heated misunderstanding between Papi and Appietus.
"After recording the song (Muje Baya) they told me they were going to show it to an investor. The next moment, I heard the song playing on radio," Appietus opened up in his interview with Citi TV.
Papi in an appearance on CTV with Sammy Flex also shared his side of the story and accused Appietus of ripping them off by putting their song on digital platforms and hijacking revenue.
When Appietus joined the conversation on phone, the musician went head-on with him when he defended his actions.
"He is very stupid and dumb…Appietus you are dumb, barter trade is still payment or you don't understand the word. You claim I never paid for the studio session. You are very stupid…Appietus your whole career, your whole life, Muje Baya made you. All your songs, which one made you?" Papi quizzed.
Appietus who equally lost his cool had some things to get off his chest.
"Can you imagine, I have done over 200 hits, just imagine how Papi is on TV disrespecting me. I am so hurt, this is why a lot of producers are not helping…" Appietus said.
In the heat of the moment, the producer questioned Papi on whether he ever "paid studio fees".
Appietus burst out in flames when Papi argued that their song, Muje Baya was what made him a great producer.
Appietus clapped back at the musician: I am taking this on for defamation of character. This is how you can thank me. When you guys came, every time you said you were hustling and can't pay the fee I was charging. You can't pay so everything was about barter trade. It was me showing you people love but later I realized that I was being taken for a fool.
"When the songs became a hit, you didn't pay me so I needed to put them online to make my money. Now you say am a thief, thank you very much but note that I will take the matter to court."
Meanwhile, Bullgod, who was managing the 5Five group made up of Luther Asamayi (Papi) and Jeffery Opoku Agyekum (Killi) has disclosed that Appietus cheated them.
In a Facebook post sighted by GhanaWeb, he openly called out the producer of 'Muje Baya' and treated to take the matter to court.
"For almost 10 years by selling 5Five songs — executive produced and promoted by Bullhaus Entertainment on digital platforms globally without our permission. GET READY – TIME TO PAY UP. You will hear from our counsellors," parts of the post read.
Check out the posts below:
Source: www.ghanaweb.com