Ambulance driver, two others arrested for attempting to smuggle 250 bags of gov't fertilizer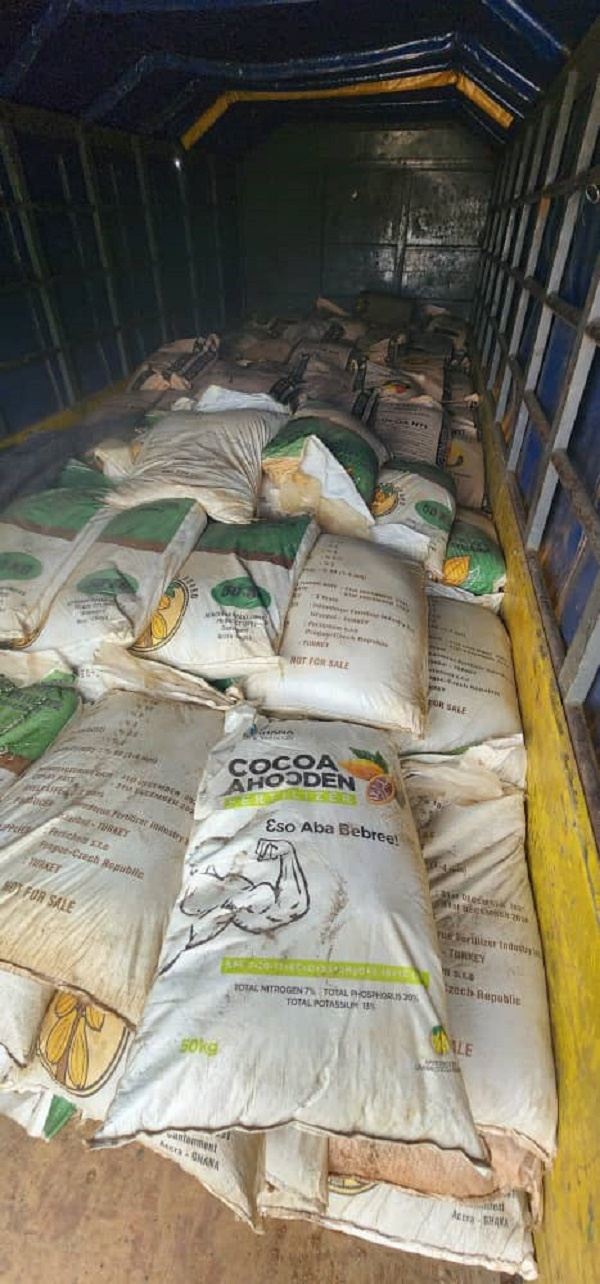 A joint team of the Ghana Police Service and the National Intelligence Bureau (NIB) in Assin Fosu has intercepted an articulated truck loaded with 250 bags of government-subsidized fertilizer for farmers.
The fertilizer, which is made up of Cocoa Ahuoden, Cocoa Aduane, and Cocoa Nti, was ostensibly being transported to the neighboring country, Ivory Coast.
The three suspects, Seth Yeboah, driver; Smaila Ahor, houseboy; and Iliasu Abubakar, driver with the Ghana National Ambulance Service in Assin North, were arrested on Sunday at Assin Juaso and sent to the NIB head office in Accra to assist in the investigation.
The Central Regional Chief Farmer, Nana Kwasi Fori, speaking to Rich FM and Angel News' Kwame Owusu Asante Shadrack, indicated the officials at the NIB in Assin Fosu had been monitoring the movements of the suspects for quite some time now.
So on Sunday, they had intelligence that a truck with registration number GW-9930-W loaded with the fertilizer had been stuck midway when hauling out of where the fertilizer was parked.
He said that after finding out the content of the vehicle was fertilizer suspected to be smuggled, the NIB officer called in the police and subsequently arrested them.
During the interrogation, it was revealed that the ambulance driver, Iliasu Abubakar, contracted the other two suspects.
Nana Ofori therefore, warned all persons involved in this illegal act, including farmers who connived with these miscreants, to desist from the practice or risk facing the full rigors of the law, which include arrest and prosecution.
He also encouraged the public to report all suspected cases to the Ghana Police Service for the necessary action
Source: www.ghanaweb.com