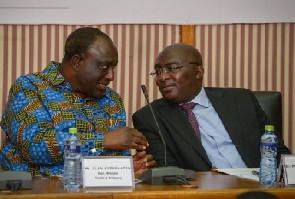 That the New Patriotic Party (NPP) should settle on compromise candidates as its pair for the 2024 presidential elections is an idea that has been proposed since last year.
Proponents are of the view that the two main contenders for the post, Vice President Mahamudu Bawumia and outgoing Trade and Industry Minister Alan Kwadwo Kyerematen should be presented as the party's team.
Bawumia, a vice president since 2017 has yet to confirm his interest in the race whiles Alan on January 5 tendered in his resignation as Minister to allow him time and space to start campaigning for the slot.
There has been mixed reactions from within the party itself with proponents and opponents arguing their case.
Proponents
Two major proponents of the Alan – Bawumia ticket are Abuakwa South Member of Parliament Samuel Atta Akyea and Nana Akomea, a former MP and now Managing Director of Intercity STC Coaches Limited.
Whiles Akomea holds that the pair should figure out who becomes the president and the vice, Atta Akyea believes Bawumia as the presidential candidate will bode well for the party.
"I believe in it (Bawumia – Alan ticket) with all my heart for the simple reason that I don't believe in any arrangement in which you cannot talk about what we call the tribal balance," he said on the January 3, 2023 edition of Good Evening Ghana programme on Metro TV.
Akomea, whiles defending his position on the issue in a May 2022 interview on Metro TV said: "How is it that a call for consensus can spark anger? What are the motives for the anger?
"This has been my view for now and it will be my view till we finish this presidential ticket. Whether the party takes it (or not) as a member of the party, this is my view.
"I mentioned it here on Metro TV and I haven't changed. Citi TV came right to my office… it was a personality interview and it came to NPP politics, national politics and I said I believed that this is a good way forward for the party," he stressed.
Opponents
Opponents argue that a process as the one being proposed will mean the NPP is not sticking to its time-tested values of allowing all interested persons to contest for a position once they pass the eligbility test.
Former Chief of Staff Kwadwo Mpiani and two former General Secretaries have robustly spoken against the idea.
The two being Nana Ohene Ntow, known to belong to the Alan Kyerematen camp and Kwabena Agyei Agyapong, himself an aspirant for the slot.
"It is easier said than done because you can't just pick anybody as your running mate if you are not sort of compatible; if you can't work with the person," Mpiani said in an interview on Joy FM on Friday.
"If you can work with anybody in the party to be your running mate then maybe what he (Atta Akyea) is saying can be done but even the problem as I see here is that who is going to be the Presidential candidate and who is going to be the running mate?" he asked.
Ohene Ntow also said on pro-NPP Asaase Radio on 7 January 2023 that the issue should not even come up: "My clear and direct answer will be an emphatic no!
"… NPP has always elected a presidential candidate, and once the candidate is elected, the candidate has the right and the privilege of choosing their running mate. So, why will you want to go and arrange something they are yet to arrive at?" he asked.
"So, in that arrangement, who becomes the candidate and who becomes the running mate? Do you want to predetermine that … That's very problematic and we ought to allow the party's constitutional and time-tested procedures to be allowed to follow the natural course.
"Let's not jump the ship by coming out with this kind of arrangement, which I find to be very problematic," Ohene Ntow added.
Other contenders for the slot
Aside Alan and Bawumia, others who are in the race include Agric Minister Dr. Owusu Afriyie Akoto (yet to declare), Assin Central MP, Kennedy Agyapong, former NPP General Secretary Kwabena Agyei Agyapong and former Energy Minister, Boakye Agyarko.

The NPP's presidential primary will take place later this year ahead of the busy 2024 election season with the party looking to 'Break The Eight' – reference to the 8-year cycle where a ruling party loses power as has been the case since 1992.