Akufo-Addo's lawyer under attack as #OccupyJulorbiHouse protestors dig up 2015 tweet about injunction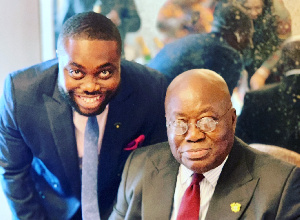 The internet, they say, never forgets and it is evident in a 9-year-old tweet by private legal practitioner, Kow Essuman which has resurfaced online.
The lawyer for President Nana Addo Dankwa Akufo-Addo, Kow Essuman, in the tweet dated September 16, 2015, said he could not fathom why some judges would grant an injunction to the police on the eve of a protest.
"I don't know what some judges would grant an injunction on the eve of a protest," Kow Essuman's tweet read.
The dugout tweet comes after the police filed an injunction in court on September 20, 2023, to halt a planned demonstration by a group near the Jubilee House.
The application which was successfully served to the group named Democratic Hub seeks to prevent them from holding its demonstrations around the seat of government, Jubilee House.
However, the group held its planned protests from Thursday, September 21, 2023, to Saturday, September 23, 2023.
About #OccupyJulorbiHouse protests
On Day 1, September 21, 2023, of the #OccupyJulorbiHouse protest by the Democracy Hub, the police illegally arrested 49 protesters who were marching to demand action on the prevailing economic crisis and corruption.
Some journalists and protesters who massed up, especially at the Accra Regional Command encountered some amount of police violence including shoving, forced detention, seizure of phones and in the case of others, physical assaults.
The illegal arrests and how protesters were treated by the police raised eyebrows by many.
The police sent the detainees to the regional headquarters before splitting them up to about eight police stations across the capital.
Speaking on the issue, the police said the illegal arrests were justified because protesters were defying a court injunction served on them.
Read Akufo-Addo's tweet below;
Source: www.ghanaweb.com