Afro-Arab Properties & Construction Limited, has constructed and delivered a FIFA standard Astro turf facility to the people of Yeji in the Pru East District of Bono East Region with the funding from the then Ministry of Zongo and Inner Cities.
The facility, which was handed over to the Chiefs, and people of Yeji in a short presentation ceremony on Thursday, formed part of a partnership arrangement between the Afro-Arab Group and Hon Mustapha Abdul Hamid then Minister of Inner Cities and Zongo Development.
The District Chief Executive Officer, Pru East Assembly, Joshua Abonkra, receiving the keys to the facility on behalf of the people, applauded the Afro-Arab Group for constructing a pitch that will soon produce world class footballers like Abedi Pele, Asamoah Gyan, Mohammed Polo, Ibrahim Tanko, Sulley Muntari, Micheal Essien, Andre Dede Ayew, Bright Addae among others who all started small from the community level.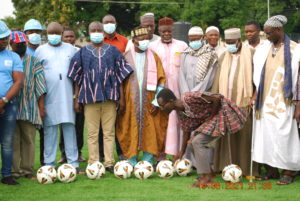 "I am very much happy for this project and I must also thank the Afro-Arab Properties and Construction under the leadership of Alhaji Salamu Amadu for the good work done. Getting such an edifice in our community means a lot to us. I can assure you that this pitch will help us to unearth more talents from Yeji and its surrounding towns. The Contractors has officially handed it to us and I want to assure them that we would manage and ensure a good maintenance culture for this facility," he said.
Mr. Abonkra, further appealed to the group for more support to the district emphasizing that his office will continue to collaborate with the Afro-Arab Properties and Construction for future projects in the district and region.
According to the DCE, when we talk of talent related to the field of football in the whole of Ghana, about 45 to 50 percent were developed from the formerly Brong Ahafo Region, a reason why such facilities are very relevant for that geographical area.
Speaking on the part of the Afro-Arab Group, Cephas Kwaku Forfoe, stated that the company believes in quality and therefore the project was executed with the best of materials to ensure a long lifespan to in order to achieve its purpose of developing talents for decades to come in Yeji and its environs.
Alhaji Abdul Wahab Maswuab, the Consultant for the project in his remarks said that it is his prayers the Almighty God showers his blessings on the edifice so that the good people of Yeji especially the children growing up now to all benefit from it.
The Chiefs and Opinion leaders expressed their heartfelt gratitude to the Afro-Arab Properties and Construction Limited, a subsidiary of the Afro-Arab Group under the supervision of Alhaji Salamu Amadu, for their support and commitment to community development. "We want to say that we are grateful and you shall hear good news that this Astro turf has brought a lot of improvement to this district," they stated.