About 50 Nigerian, Ghanaian commercial s3x workers arrested in Koforidua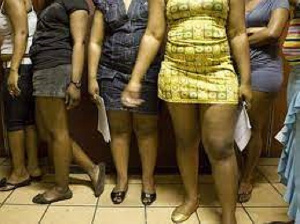 About fifty (50) commercial sex workers have been arrested last night in Koforidua through a special operation initiated by the Member of
Parliament
 for New Juaben South, 
Michael Okyere Baafi
 and the police.
Sources say majority of the suspects are Nigerians some of whom were trafficked. Few of the suspects are however Ghanaians.
They were arrested in brothels in parts of New Juaben South Municipality.
The Member of Parliament for New Juaben South, Michael Okyere Baafi confirmed the arrests Sunday, June 11, 2023 when speaking at Pentecost International Worship Center(PIWC) in Koforidua to climax National Youth Week celebration by the Church.
The MP explained that "yesterday I directed the Police to carry out operation in town so yesterday police started the first operation to arrest all those prostitutes who come to our town.so Yesterday l left the central police station around 1:00am. They managed to arrest almost about 50 people. I will make sure they will arraign them before court tomorrow before I leave "
The MP continued that "about 99% are Nigerians they are Ghanaians so they are coming here to dent the good image of Koforidua. Everybody who is doing that business will not be tolerated. If you know any place. Ghetto, house some may be living in your house if you know such persons if you cannot go to the police station call me"
The MP on January 1, 2023 raised concern that "child prostitution cases are on the rise in Koforidua by 40%. Children between ages of 12 upwards are engaging in prostitution. You must help us fight this canker. Some irresponsible adults have established brothels recruiting these young girls and sexually exploiting them"
The operation is therefore to clamp down on the menace.
Already, investigation by Starr News Eastern Regional correspondent Kojo Ansah published in June 2022 unravelled the increasing sex trafficking and commercial activities involving minors in Koforidua.
The investigation established uncovered some sex trafficking cartels mostly Ghanaians and Nigerians who trafficked young girls from Nigeria to Koforidua under the pretense of employing them in the hospitality industry, but, abducted and forced them into prostitution upon arrival.
The victims were confined in Bula spot and Little Ben brothels where they were sexually exploited by the traffickers.
Following the investigation, the New Juaben South Municipal Security Council raided the two brothels but the suspects and victims escaped.
Two of the victims including a 20-year-old girl thrown out by the traffickers after being in impregnated and infected with HIV were repatriated to Nigeria by the Nigeria High Commission in Ghana and other international partners.
Source: starrfm.com.gh