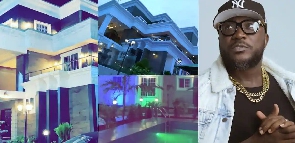 Ghanaian musician Nhyiraba Kojo's 9-bedroom mansion is 100% complete, and fans can't stop gushing over the magnificent building seated in the heart of Accra.
Pictures and videos of the edifice went viral when the musician hosted a New Year's Eve party to unveil it.
The exterior (compound), captures a garage filled with luxury cars, including Range Rovers, Dodge, Camaro, Mercedes Benz, SUVs, and many others.
The building comprises a private lounge, living room areas with high ceilings, and an interior décor that exudes sophistication.
It also has an office space, visitors' rooms, and a huge master bedroom that has every other facility, including a kitchen.
"I imported all the decorative pieces, including furniture, from Turkey. There were three containers brought in. As for the home appliances, I imported them from the UK. I designed everything myself because I started life as a fashion designer, so I have an eye for good designs," he told Zionfelix, who went on a tour of the residence.
The musician cum real estate mogul disclosed that he has been able to establish nine other apartments, some of which has been given to his family members.
"I have nine other apartments. My parents and siblings live in one. My other extended family house live in another. God created us in his own image so if others are able to make it, we also have to tell ourselves that we will make it. If by God's grace we are able to afford a private jet, we deserve it. I don't subscribe to the idea that material things are vanity.

"I came to Accra with a black polythene bag, it's been God. Everything is possible."
Checkout the video below:
Source: www.ghanaweb.com