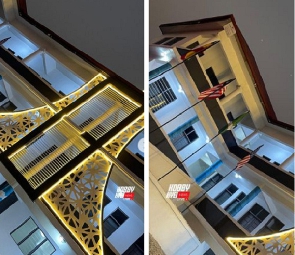 A tour in and around Michael Blackson's school complex captures the impeccable beauty of the three-storey edifice seated in Agona Nsaba, Central region.
The newly built facility has neatly painted white walls, terrazzo slaps, and ultra-modern furniture.
Each classroom has a spacious 12-seater capacity with neatly tiled washrooms; not forgetting the exterior which has an incredible and fancy lightening system.
This was captured in a couple of night view photos, where even the outer walls of the facility had some LED wall lamps.
Chancing on photos and videos of the building, netizens have commended the Hollywood actor for his great service to his motherland.
Others have also urged him to adopt the right structures to maintain the beautiful facility when it commences operations.
Meanwhile, Michael Blackson has established that the provision of the educational facility forms part of his intentions to improve the quality of education for students in his hometown (Agona Nsaba) and its environs.
As he puts it, it is free and all one needs to do is pay attention.
Checkout the post below:
Source: www.ghanaweb.com