8 beautiful ladies Wizkid has allegedly dated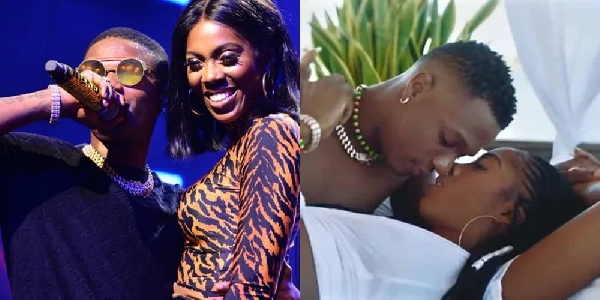 Wizkid popularly known as Star Boy has dated many beautiful ladies. Wizkid whose real name is Ayodeji Ibrahim Balogun is one of the most popular and most influential musicians in Nigeria. The Ojuelegbe crooner who was born on 16th July 1990 in Surulere, Lagos State in the south western part of Nigeria and currently 29 years old has dated several beautiful ladies. Wizkid who grew up in an average rich family and an interfaith household with twelve female siblings and being the only male child and last baby in the family has always dream of becoming a worldwide venture and today he has actualized his dream. The star boy as he is fondly called is very handsome, influential and famous. He has become every girls crush. So therefore in this article I will be sharing with you 8 Beautiful ladies Wizkid has dated and slept with.
1. Sophie Rammal
Sophie Rammal was Wizkid girlfriend during his early days in the music industry. She was Wizkid first girlfriend when Wizkid turned 17 years old and had always stood by Wizkid especially during his hard times, challenges and predicaments. Wizkid featured Sophia Rammal in his first single "Holla At Your Boy" a music video that brought Wizkid to limelight. Unfortunately things changed when stardom came. After becoming a global celebrity Wizkid broke up with Sophie Rammal and decided to enjoy his fame and glory without Sophie Rammal. The beautiful lady waited for him to come back to her but unfortunately Wizkid has already move, she therefore decided to get married to a Nigerian billionaire.
2. Sola Ogudu
Sola Ogudu shockingly revealed that she was carrying Wizkid child in her womb. She currently has a son for Wizkid and Wizkid has fully accepted responsibility. Unfortunately Wizkid did not just accept full responsibility of the pregnancy without a fight. According to Sola Ogudu, from the moment she discovered she was pregnant for Wizkid, she revealed the information immediately to Wizkid but he denied the baby. Even after giving birth to the baby, he still didn't want anything to do with the baby. At some point, Wizkid and his family asked for a DNA test which came out positive. She went on to reveal that Wizkid's family at the beginning would come to her house with gifts, pleading with her to understand that he would soon come around which he never did. Sola Ogudu in her explosive revelation also stated that Wizkid only did things for their son so as to be perceived in public as a good dad. According to her, he tattooed his name on his body to give the impression that he was a cool dad.
3. Victoria Kimani
There were dating rumours between Wizkid and Kenyan singer Victoria Kimani. There have been rumours that Wizkid has been dinning in between the lions of Kenya's big booty musician Victoria Kimani. The folks at City People's Magazine and Kenya's Standard media reports that they caught Wizkid locking lips with Victoria Kimani in a car. They also reported that Wizkid was later caught again kissing Victoria Kimani at the Westland Hotel in Kenya. However, on Sunday night of 19th October 2014 at Skyluxx Hotel in Westlands, Kenya multitalented singer, Victoria Kimani and Wizkid openly displayed affection where the party had moved after the thrilling performances at Carnivore grounds. According to Kenya's Standard Media reports, Wizkid made his appearance at Skyluxx Hotel in the company of Lax, Muthoni DQ and Victoria Kimani that Sunday night at about 4am. After a few drinks, Wizkid hopped in a four-wheel drive with Victoria Kimani. The two started kissing each other before the car sped off, seemingly unaware that the car's windows were not tinted.
4. Hudda Monreo
Rumour had it that former Big Brother Africa housemate Hudda Monreo was dating Wizkid. She went to confirm by posting photos of her and Wizkid on Instagram. Big Brother Africa ex-housemate, Huddah Monroe during a chat with the media revealed that Wizkid who was in Kenya for a music concert spent some quality time with her and made love to her. According to online reports, the Ojuelegba crooner was recently in Kenya for a concert which he didn't honor last year. It was also revealed that Huddah Monroe was reportedly one of the reasons for Wizkid's on and off relationship with his ex-girlfriend Tania Omotayo. It was also reported that Huddah Monroe who is from Kenya has travelled to Nigeria countless number of times to have a good time with Wizkid. According to reliable information, Wizkid is the only Nigerian man who is immune to Huddah Monroe detestation of West African men, the socialite said that she won't mind marrying the Ojuelegbe crooner hit maker and star boy Wizkid.
5. Tania Omotayo
Wizkid revealed to the host of "Drive-Time With Gbemi" show on the Beat 99.9 FM, Gbemi Olateru during an interview that he was dating Tania Omotayo at that period. But unfortunately things changed for Wizkid and Tania Omotayo and they broke up. Right now Wizkid's ex-girlfriend Tania Omotayo has finally moved on to new things as she brought her parents down to Nigeria to arrange for her wedding to popular Lagos bar owner, Sumbo, whom she is 3 months pregnant for. Tania Omotayo will recalled as Wizkid's longest serving girlfriend, after being with the star boy for over 5 years before breaking up with him due to his incessant cheating and impregnating more women. Although, after it has been confirmed that Wizkid has indeed welcomed another son with his Guinean-born, US-based girlfriend Binta Diamond Diallo, it was also reported that Wizkid is desperately seeking the attention of his estranged girlfriend, Tania Omotayo. It was also revealed that the two love birds parted ways amicably when Tania got the news that Wizkid was expecting another baby from his second babymama. Due to this circumstance, Tania Omotayo broke up with Wizkid and agreed to be just casual friend to the star boy. Wizkid tried to win back her love but all was in vain as she finally tied the knot with Sumbo, a popular Lagos bar owner.
6. Binta Diamond Diallo
Binta Diamond Diallo and Wizkid were in a quiet relationship for a while and when she became pregnant things where kept on a low until she gave birth to her son. The star singer and his Guinea-born second babymama, Binta Diamond Diallo welcomed their baby boy, Ayodeji Ibrahim Balogun Jnr which is Wizkid's exact first, middle and last names. She bore the baby on 16th January 2016 in the United States of America. It was reported that Binta Diamond Diallo conceived and got pregnant for Wizkid in 2015 and later gave birth to a bouncing baby boy on 16th January 2016 in the United States of America. During a chat with the media Binta Diamond Diallo revealed that she wasn't the cause of Wizkid and Tania Omotayo breakup. According to her, it all started when she threw a shade to Wizkid after he confirmed that he has welcomed a son for him in United States of America. According to her, she was the first woman to have a child for Wizkid during his so called 7 years relationship with Tania Omotayo. According to her, she wasn't aware that Wizkid was already in a 7 years relationship because when she met Wizkid he told her that he is still single and therefore no one should blame her as the cause of Wizkid and Tania Omotayo breakup.
7. Tiwa Savage
Tiwa Savage is the latest girlfriend of Wizkid. She got hooked up with Wizkid after she divorced her ex-husband TeeBillz. Tiwa Savage and Wizkid have appeared together on several events and shows as lovebirds. In 2018, Wizkid featured Tiwa Savage in his music video "Fever" which had so much romantic scene and got fans talking. Unfortunately, many people have criticized Tiwa Savage relationship with Wizkid because of the huge age difference. Tiwa Savage is currently 39 years old while Wizkid is currently 29 years old. But to Wizkid and Tiwa Savage age is nothing but just a number and cannot be a hindrance to their relationship. However, in an interview with the media, Nigerian multitalented singer, Tiwa Savage disclosed why she has a special relationship with Wizkid. This follows Wizkid's sharing of numerous pictures of Tiwa savage on his Instagram page which got Nigerians talking. However, the African Bad Girl as she is fondly called responded to questions on her relationship with Wizkid saying; "You already know how emotional I get so this is just making me teary. Forget music, he has been there for me even when I didn't have anyone by my side. I can't doubt my feelings, I love Wizkid so much and he put a smile on my face. Wizkid and Tiwa Savage relationship was the most talked about on social media due to their huge popularity.
8. Tonto Dikeh
Everybody knows that Tonto Dikeh has a special love interest and likeness for Nigerian famous singer and Ojuelegbe crooner Wizkid. She showered him with different gifts just to get the handsome guy into her hot pants and thigh. She even reportedly bought him a car worth millions of naira as a wooing method. Although they both denied the car story, but sources close to them insisted that she actually bought a car for Wizkid. Tonto Dikeh dated the Nigerian superstar, Wizkid and admitted that she still have a soft spot for the Star Boy and place him so dearly in her heart. It was also reported that she bought him a car and showered him with different kind of gifts as a wooing method. Tonto Dikeh had a romantic relationship with Wizkid when he was still in his early stage in the entertainment industry as a musician.
Source: www.austinmedia.com