2023 Chale Wote: Watch Zanetor Rawlings compete in weightlifting competition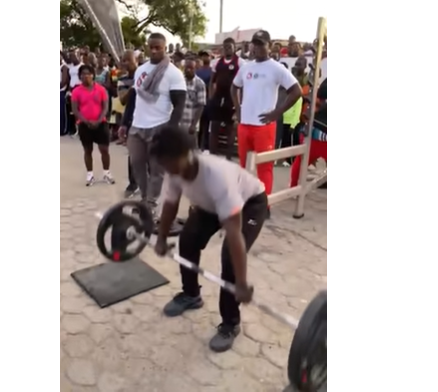 The 2023 Charlie Wote Street Art Festival was held over the weekend with events at various parts of the regional capital, Accra, including the main durbar at the Black Star Square in Osu.
The Member of Parliament for Klottey-Korle Constituency, Dr Zanetor Agyeman-Rawlings, whose constituency hosted the festival, participated massively in all the activities to mark the festival.
Video from the event showed her dancing and taking pictures with participants at the event.
The MP, a medical doctor by profession, even bravely challenged professional athletes in a weightlifting competition.
Dr Agyeman-Rawlings impressively did 10 push-ups with heavy metal as the crowd cheered her on.
The Chale Wote Street Art Festival, also known as Chale Wote, is an annual street festival in Accra, which is targeted at exchanges between scores of local and international artists and patrons and has been held since 2011.
Some of the activities to mark the festival include street painting, graffiti murals, photography, a theatre show dubbed: 'Na Wo Se Sɛn', spoken word, interactive art installations, live performances, sports and film shows.
Watch videos of the MP at the event below:
Source: www.ghanaweb.com