2-year-old girl abducted at Makola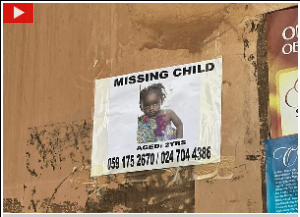 There was confusion at Makola, specifically China House in Accra, as a 2-year-old was kidnapped on the blind side of her mother.
The child, Juweida Osman, is reported to have been kidnapped around 11:00 am on the morning of Tuesday, November 14, 2023.
According to an eyewitness account, the child was abducted when her mother was loading fresh goods into her shop.
After loading her goods, the child was nowhere to be found.
Fortunately, or unfortunately, CCTV footage shows a woman carrying the child away in her arms.
During an interaction with GhanaWeb, a trader who is close to the embattled mother (Fuseina Osman), shared that the case has been reported to the police and awaiting investigations.
In case you have any information about the whereabouts of the missing Juweida Osman, kindly contact 0591752670 or 0247044386.
Watch the report below:
Source: www.ghanaweb.com